Cat B-Series Tandem Vibratory Rollers' Centre-Articulation Ensures Mat Contact and Smoother Ride Over Uneven Surface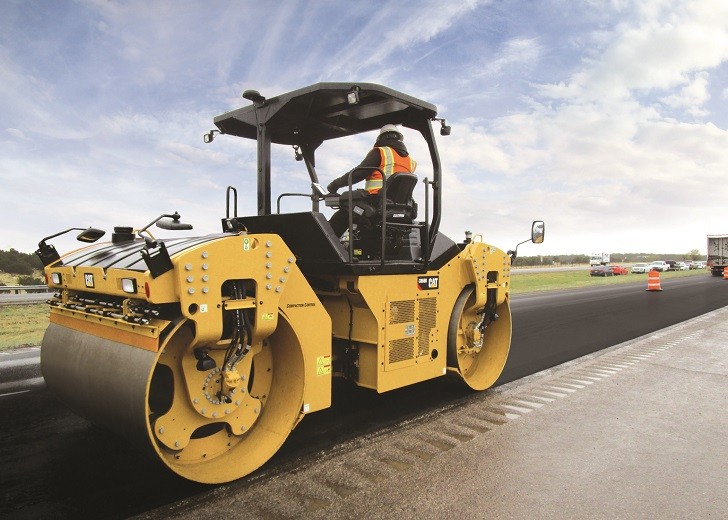 Caterpillar's new, high-production B-Series Tandem Vibratory Rollers include the 12- to 14-metric-ton CB64B, CB66B and CB68B models.
The rollers are well suited to all types of mix designs and applications. They provide high variation of amplitudes for breakdown and intermediate work, while their high static linear loads deliver excellent results for finishing work. Typical applications include highways, city streets, county roads, lane additions, industrial sites, overlays, airport runways, and other production-sized paving jobs.
Visibility and comfort are enhanced by the standard 180-degree seating and optional 360-degree positioning.
New handwheel steering technology eliminates the front steering console, enabling the operator to easily monitor water spray performance. An LCD display and pushbutton controls simplify operation.
These models feature a newly designed centre-articulating hitch with six degrees of oscillation that ensures mat contact and a smoother ride over uneven surfaces. An offset hitch option extends coverage up to 170 mm (6 inches) and simplifies control next to obstacles. It delivers excellent performance on longitudinal joints by pinching the edge with the lead drum and sealing the joint with the trailing drum.
The CB64B is equipped with 2 m (79-inch) drums, while the CB66B and CB68B utilize 2.1 m (84-inch) drums. The Tier 4 Final Cat C4.4 engine rated at 106 kW (142 hp) comes standard with Eco-mode and automatic speed control, leading to uniform compaction, fuel savings, reduced sound levels and lower operating costs.
The B-Series tandem rollers offer a variety of vibratory options: dual amplitude, dual frequency, Versa Vibe and five amplitude systems. The Versa Vibe system creates a two-in-one machine with four amplitudes and two frequencies. This system provides two settings for lighter hitting and higher working speeds on thin lifts, and two settings for heavier hitting, and slower speeds, on thick lifts or those with challenging mixes. The five-amplitude system offers the widest range of amplitudes with a single frequency. Additional options help fine-tune compaction performance on thick lifts. The system also works well on tough-to-compact mix designs that consist of large aggregate and low levels of filler and binder.
Many of the technological enhancements on these units are provided through the optional Cat Compaction Control. Pass-Count and Temperature Mapping systems combine infrared temperature sensors with GPS mapping to keep the operator informed of current mat temperatures, machine position, pass-count and pass coverage. This intuitive system greatly improves nighttime performance, and also records information for future process analysis and quality control documentation.
"Machine to Machine" communication helps keep rolling patterns in sync by sharing coverage and passcount maps between the operating displays of multiple machines. By viewing the colour display, operators can monitor areas of coverage and the number of passes made. If a trailing operator sees an area of missed coverage, they can easily pick it up to ensure the entire rolling pattern gets the attention that is needed. This system is extremely helpful when performing echelon compaction when multiple machine are executing a five- or sevenpass rolling pattern.
Company info
Related products
Related Articles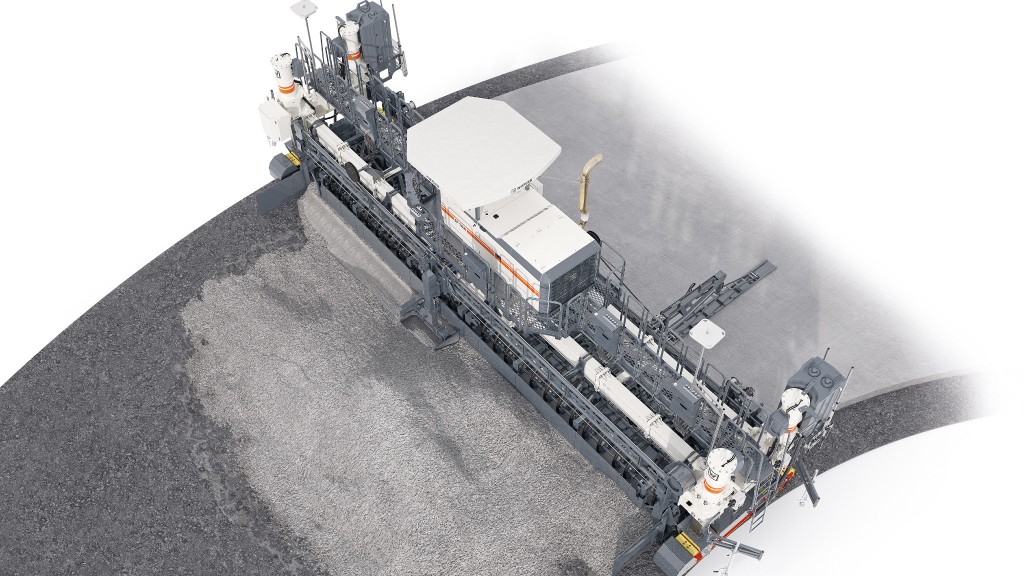 Wirtgen inset slipform paver designed for versatility and efficient operation