BSP Rapid Impact Compactors are Heavier, More Productive Ground Improvement Equipment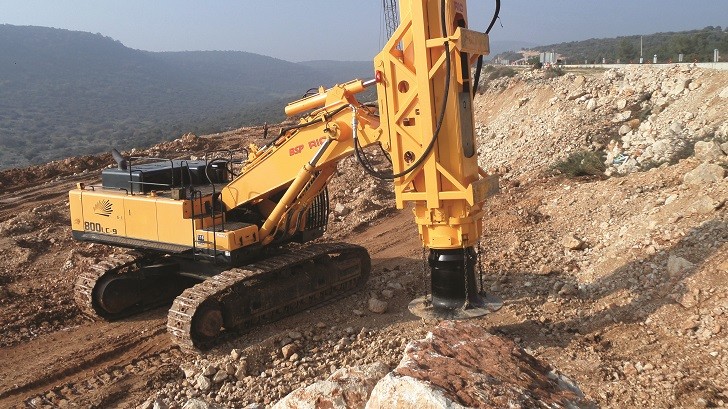 To meet the demand for a heavier and more productive ground improvement equipment BSP International Foundations has unveiled the latest addition to the company's lineup of Rapid Impact Compactors (RIC). The new RIC-16000 model joins an established four-model range offering dropweights from 5 tons up to 16 tons. Depending on prevailing ground conditions, this model is capable of significant ground consolidation to depths of more than 8 m.
RICs have been successfully used to consolidate gravel, sands and some silts as well as industrial mining and waste fills. The ability to dump and compact sand or stone to significant depths simplifies remediation practices and is less expensive than other excavation and replacement techniques.
Specifications of the new compactor include a dropweight mass of 16 tons, an impact energy of 240 kNm and typical blow rates of 40 bpm. It is suitable for mounting to hydraulic excavators with operating weights between 75 and 92 tons and can be mobilized in minutes after arriving on site.
The RIC-16000 is monitored by the on-board data logger to record the input energy and ground resistance of each hammer blow. The impact foot stays in permanent contact with the ground at all times during operation, eliminating the risk of flying debris thus enhancing safety. It enables contractors to considerably improve the control and monitoring of the ground being treated.
BSP says this method of compaction has been proven to be a major advance in filling the gap between various rolling techniques, which only treat shallow depths, and Dynamic Compaction (DC) proper which often treats soils in the 10 to 15 m depth range. In many cases the "rapid" nature of the RIC technique means it improves the ground to a greater degree than expected and encroaches into territory previously carried out by DC.
In operation the RIC-16000 is positioned over a designated area by the excavator operator. Hydraulic cylinders, inside the support frame are operated to lower the compactor and impact foot onto the ground. The foot is then rapidly struck at a controlled rate by the compactor's 16-ton dropweight. The energy generated is transferred to the ground through a special 2 m diameter anvil block and impact foot, which penetrates and compacts the material at the impact point being treated.
Company info
Related products