First 3D Grade Control System for Bobcat Compact Loaders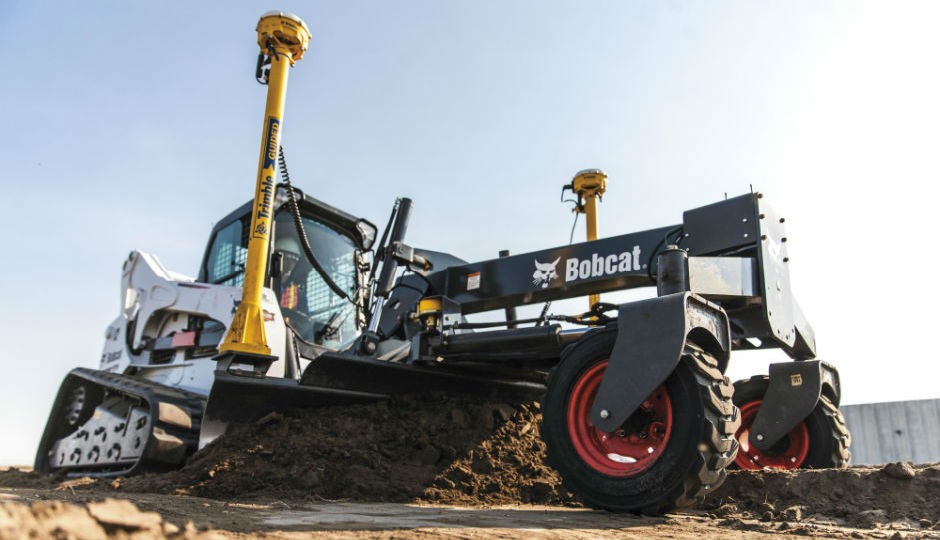 A partnership between Bobcat Company and Trimble has produced the first 3D grade control system solution for use with Bobcat skid-steer loaders, compact track loaders and all-wheel steer loaders.
The Trimble GCS900 grade control system for use with Bobcat 96- and 108-inch heavy-duty grader attachments will offer both small and large contractors alike the ability to work on complex projects that require digital designs and 3D machine control.
The new grade control system paired with a Bobcat loader and grader attachment will make it easier for operators to complete construction applications: residential and commercial development, coastal engineering, road and highway building, and land reclamation. The new Trimble 3D grade control system allows operators to work at higher speeds without losing accuracy, increases valve responses and is a more robust grading solution.
Improving productivity
The 3D grading system has a variety of measurable benefits, including its ability to be profitable and reliable on the jobsite. Less rework, less staking and checking, lower operating costs, improved material usage and faster job cycles can improve productivity, allowing for a stronger bottom line.
Instead of changing machines with the Trimble grade control systems, operators only have to use the industry standard Controller Area Network harnesses that allow sensors to be moved from machine to machine. The flexibility of the control system is unlike any other, allowing operators to efficiently and quickly get the job done, and the system can pay for itself over time by improved accuracy and material savings. The Trimble GCS900 grade control system also boasts a robust exterior that has been designed from the ground up to withstand tough jobsites.
The 3D system can be used with following M-Series loaders: the S750 through S850 skid-steer loaders; T650 through T870 compact track loaders; and the A770 all-wheel steer loader. A deluxe instrumentation panel is required for M-Series loaders in order to use the 3D system.
Better accuracy and ergonomic fingertip controls are two benefits of the 3D-ready kit, compared to the current 2D system offered on Bobcat compact loaders. The 2D system works off of a single plane – either flat, single, or dual slope – whereas the 3D system works off of elevation coordinates set up around the jobsite, giving operators the ability to grade valleys, ditches and contours.
This system can display point data, machine diagnostics and jobsite progress live from the field to an office computer. The synchronization of machine data can lead to faster completion, less rework and staking, lower jobsite cost and also help improve material yields.
Easy installation
Installation of base-level components such as mounting brackets and harnesses are installed prior to delivery to the customer. No additional welding, drilling or re-painting is required. The Bobcat 3D-ready system requires the use of a 3D-sensor kit and a 3D-harness kit.