Cat D2 Series Loaders Feature Standard Advanced Display, Enhanced Operating Capacities, Reduced Emissions, and Sealed Engine Compartment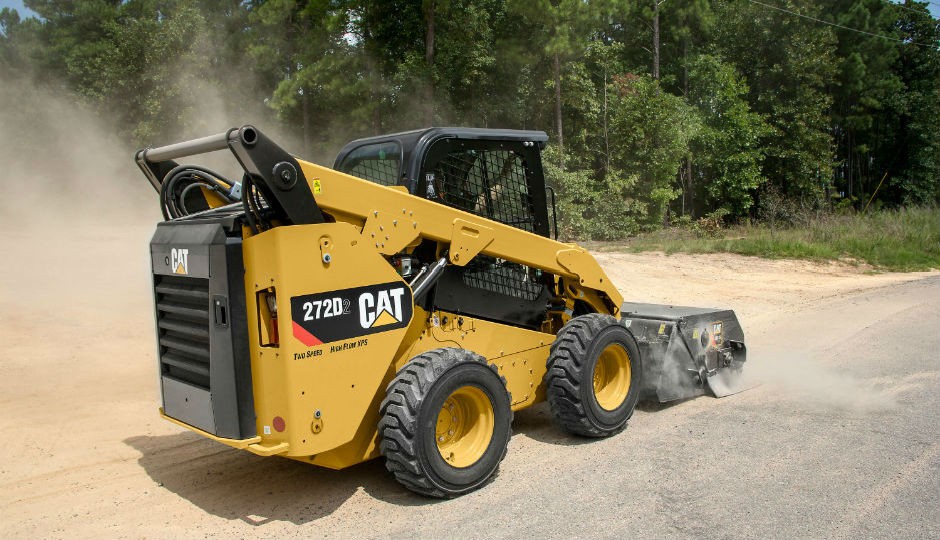 The new Cat 272D2 Skid Steer Loader, 297D2 Multi-Terrain Loader, and 299D2 Compact Track Loader – along with their more powerful XHP counterparts – build on the engineering advances in performance, operator comfort, visibility, control, and machine security of their D Series predecessors. Now standard on all six D2 Series models is the Caterpillar heads-up Advanced Display, and all feature a new engine-compartment sealing system for enhanced airflow debris control. Non-XHP models have increases in rated operating capacity (ROC), and XHP models now maintain their excellent ROC numbers without external counterweights. All models have a vertical-lift loader linkage and use a Cat C3.8 engine meeting U.S. EPA Tier 4 Final/EU Stage IV emissions standards.
With increases in Rated Operating Capacity of up to 8 percent, the D2 Series models provide excellent lifting performance for heavy loads and/or handling larger hydro-mechanical work tools. The 272D2, 297D2 and 299D2 models deliver ROC ratings of 3,400, 4,700 and 4,600 pounds, respectively, at 50 percent of tipping capacity. Ratings for the 272D2 XHP, 297D2 XHP and 299D2 XHP are 3,650, 4800 and 4,725 pounds, respectively, at the 50 percent rating. For applications that require additional lifting capacity, all six models can be equipped with optional bolt-on external counterweights.
The C3.8 engine, rated at 98 gross horsepower in non-XHP models and 110 in XHP models, now uses a selective catalytic reduction (SCR) system for control of nitrogen-oxide emissions to meet Tier 4 Final/Stage IV emissions standards.
The SCR system requires no maintenance other than periodic addition of DEF. The DEF level is easily monitored via the digital gauge provided on the standard Advanced Display.
Sealing around the rear engine enclosure and cooling package is now standard for all D2 models. The standard sealing package (rear engine door, rear bumper, cooling package grill, cab/cooling package) provides enhanced protection against material ingestion in applications with a high volume of airborne debris. The hydraulically driven demand fan operates only when required, saving fuel and reducing sound levels
An optional reversing fan provides added value to customers operating in high debris applications. The reversing fan, with both an automatic and momentary purge capability, aids in the removal of material from the rear door intake screen to maintain maximum air flow to the cooling system.
The steel track option is best suited for customers that require improved traction due to working in challenging underfoot conditions that may contain high concentrations of protruding objects (such as boulders, stumps, demolition debris, etc.) and/or using heavy work tools, working on slopes and/or working near transitions.
Undercarriage suspension is standard on all D2 Series MTLs and CTLs and isolates the undercarriage from the machine frame using torsion axles. The torsion axles allow independent up/down movement to distribute the load and absorb shocks and vibrations. This results in higher operating speeds, better material retention and increased operator comfort. Both the 299D2 and the 299D2 XHP can be equipped with an optional sealed and lubricated steel track system. The 15.7-inch (400mm) triple grouser steel track delivers additional traction and/or track life in applications not ideally I suited for a rubber track.
The 297D2 and 297D2 XHP Multi Terrain Loaders features the unique dual-suspension undercarriage.The Dual Level Suspension offers a "second level" of suspension, in addition to the torsion axle suspension, using oscillating roller wheel assemblies. These roller wheel assemblies will independently pivot when they encounter an obstruction providing more track on the ground, better load retention, improved operator comfort and a smoother ride.
Company info
Related products