The natural gas option for trucks: what to consider and how to spec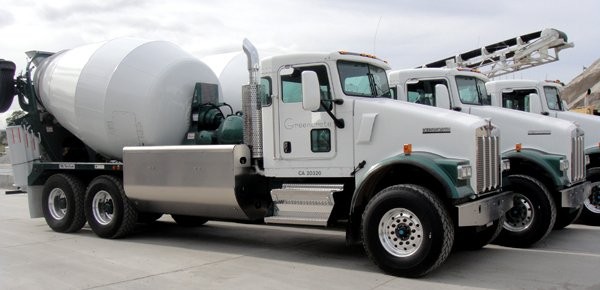 by Andy Douglas

Are you ready to seriously explore the purchase of natural gas trucks for your operation? If so, where do you begin in the effort to specify for natural gas power?

"CNG can be used up to 66,000 pounds GVW with some severe duty applications going up to 80,000 pounds GVW," said Andy Douglas, Kenworth Truck Company's national sales manager for specialty markets, who leads Kenworth's green truck initiatives.

The Class 8 Kenworth T440, T470 and W900S are available to run either compressed natural gas (CNG) or liquefied natural gas (LNG). These three models can be ordered with ratings up to 66,000 pounds GCW. The T440 and T470 can also be spec'd as a heavy Class 7 truck at 33,000 pounds (GCW). Models with the versatility to span Class 7 and Class 8 ratings can offer operators the widest array of truck choices to help meet their operational needs, Douglas noted.

Natural gas availability infrastructure
Canada has a network of approximately 80 CNG public refuelling stations located in five provinces. (There are few LNG stations in Canada.)

"The natural gas infrastructure available to the public is expanding at an accelerated rate across the United States and Canada along well-travelled transportation routes," Douglas said. For example, natural gas engine manufacturer Westport Innovations in Vancouver, B.C., and Shell have agreed to launch a co-marketing program in North America aimed at providing customers with a better economic case for adopting natural gas-powered vehicles by addressing fuel supply and customer support.

Fueling
Be sure to check each station's ease of truck accessibility and capability to fill commercial truck volumes. Most CNG stations compress the gas into onsite storage cylinders, which can then dispense the natural gas fuel into truck fuel tanks as quickly as diesel fuel.

"Drivers can refuel CNG-powered trucks without needing to go through special training," said Douglas.

Some CNG stations are lower volume, or time fill, and fill fuel tanks more slowly. The slower, time-fill system is often used to fuel fleets whose vehicles sit overnight or for several hours, he said.

Fuel tank selection and placement
As far as fuel tank selection, there is sometimes a tendency to overspec when choosing natural gas tanks since operators are in the habit of carrying a two-to-three day supply of fuel on their diesel trucks.

"In many cases, it's often impractical to carry much more than a day's supply of natural gas. Natural gas fuel tanks also can be expensive, so consider carrying only enough fuel for a full-day's work, plus a 10 percent reserve," said Douglas.

Douglas recommended specifying Type 4 CNG cylinders, which are the lightest weight, but also the most expensive option. Type 4 tanks have a plastic core and are fully wrapped with a composite, such as carbon fibre. Other less expensive options are Type 2 and Type 3 CNG tanks, which have a steel or aluminum core and are composite wrapped. All CNG tanks are high-pressure vessels.

Kenworth offers a number of tank options for order on its natural gas trucks. Fuel tank placement depends on the type of truck, chassis configuration, equipment specification choices and how much fuel is needed to be carried, Douglas said. "It's important to carefully consider the possible impact of tank placement choices on wheelbase length, weight distribution and turning radius," he added.

Engine recommendation – Cummins Westport ISL G
If your route is less than 400 miles, Douglas suggests considering the CNG route with the 8.9-litre Cummins Westport ISL G natural gas engine. The engine uses a maintenance-free, three-way catalyst and is 2010 EPA- and CARB-compliant without the use of SCR / DEF system. "The three-way catalyst offers customers less weight and complexity and can result in lower running costs," noted Douglas.

The ISL G is rated at 320 hp and 1,000 lb-ft of torque for the Kenworth T440 and Kenworth W900S for local and vocational applications, and has a torque curve closely matching that of its diesel counterparts. The ISL G is spark-ignited and can operate on either LNG or CNG. Combined with the use of an automatic transmission, which improves throttle response and torque management, superior pulling power is provided to get the job done. The ISL G is recommended for tractors with a GVW of 66,000 pounds or less. In addition, for vocational straight truck applications such as mixers, a GVW of up to 80,000 pounds is available.

For CNG, Douglas recommends specifying either two saddle tanks or four vertical back-of-cab headache tanks. "That gets you about 76 to 81 DGE, which equates to up to 400 miles travel with CNG," said Douglas. "Vocational applications, such as a mixer, would also be better served with the choice of CNG because of the more local nature of the application. The ISL G also can be set up to run LNG, if you decide to go that route," added Douglas.

The ISL G is also 5-1/2 decibels quieter than comparable diesel-powered 2007 Cummins engines at peak torque and load and nearly 10 decibels quieter at idle, according to Cummins Westport. The company reports it has produced 10,000 ISL G natural gas engines, mostly for the school bus and commuter bus markets, since the engine's launch in 2007.

Fuel price comparison
Canadian federal regulations require that natural gas be dispensed on a cents per kilogram basis. The Canadian Natural Gas Vehicle Alliance says that one kilogram of natural gas has the same amount of energy as 1.516 litres of gasoline. To compare the CNG pump price with gasoline pricing on an energy equivalent basis, divide the per kilogram pump price by 1.516.

"The fuel savings, coupled with the longer trade cycles that some vocational operators already experience with their trucks, can make a positive return on investment (ROI) attainable now, even without government incentives," Douglas said. "The business is changing as the trend moves toward greener trucks."

Other benefits
A number of federal, provincial, county, and municipal grant programs and financial incentives are available to help truck operators purchase natural gas vehicles.

"Kenworth and Kenworth dealers can assist truck operators interested in pursuing such funding. Kenworth requires its dealers to make certain that service technicians are properly trained to work on natural gas trucks, prior to selling these trucks to customers. Kenworth dealers can also assist customers in helping to spec natural gas trucks," said Douglas.

"Natural gas represents a tremendous future for our industry. Knowing how to choose the right model, fuel, tanks and engine is important for truck fleets and operators looking at adding natural gas units to their operation."

Andy Douglas, Kenworth Truck Company's national sales manager for specialty markets, leads Kenworth's green truck initiatives. For the past five years, Douglas has travelled extensively to work closely with officials from fleets, non-profit organizations, municipalities, ports and government agencies interested in purchasing fuel-efficient, low-emission trucks or helping to aid the advancement of green trucks into the marketplace.