Rubble Master Presents New Developments to 240 Guests at RM Xperience Days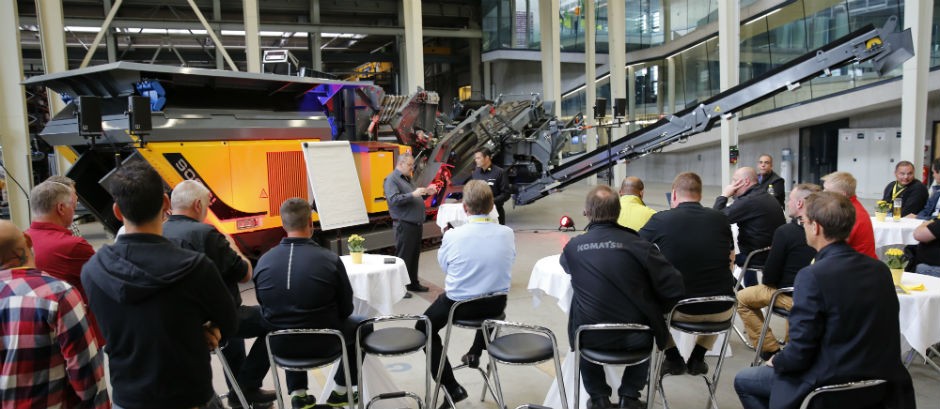 Rubble Master presented a number of new technical developments to its customers and sales partners at the RM Xperience Days in Linz in the middle of September. The RM 90GO!, RM 70GO! 2.0 and the new swivelling refeeding belts with mesh deck screen were shown in action in the course of a product demo. RM is also launching a hybrid option for its crushers under the name of RM TWO GO!.
"Versatile, efficient and innovative – this is how our mobile crushers are. And our customers also appreciate this with the machines in daily use. The fact that once again some 240 customers and sales partners from all corners of the globe visited us is confirmation that with our crushers we always offer the best technological solution for the requirements of our customers," says Gerald Hanisch, Rubble Master CEO. "From Columbia and South Africa to Latvia – our guests were extremely enthusiastic about the new RM products and the importance we attach to customer relationships and service," emphasises Hanisch. One particular highlight was the RM product demo in which four of the RM crushers were in action, each processing two different materials.
RM 70GO! 2.0 – even stronger and even quieter
The next development of the RM 70GO! bears the name RM 70GO! 2.0 and offers even more performance thanks to the new engine. The crusher unit itself has also been modified. The result is even more homogeneous aggregate, which the "tuned" mobile crusher proved in impressive style when processing concrete and natural stone at the product demo. The power for the 19 t mobile impact crusher comes from a Tier 3/Stage IIIa John Deere diesel engine. The constant speed engine runs more quietly because of the lower speed and makes the RM 70GO! the ideal choice of machine for use in noise-sensitive areas. The constant speed engine is authorized in Europe besides the Tier 4 engines.
RM 90GO! even more flexible with swivelling refeeding belt
"We think in terms of solutions," emphasises CEO Hanisch. With this in mind the RM 80GO! from Rubble Master has been enhanced systematically and now presented as RM 90GO! to make it easier to differentiate between the new version and its predecessor. The extremely high-torque and robust constant speed engine make it not only even higher performing and quieter but also even less susceptible to downtime and more versatile than the predecessor model. Additionally, one fundamental difference to the old model is the new swivelling refeeding belt RM RFB7540GO!. The closed loop can be reconfigured to an additional discharge belt at the push of a single button in a very short time, enabling the user to produce another fraction quite easily.
RM TWO GO! – where electric and diesel-hydraulic merge
The electric version of the normally diesel-hydraulic driven RM crushers has already been established with customers for a number of years. With the option of equipping a crusher with RM TWO GO!, Rubble Master now offers its customers an "application crossover" featuring the best of both worlds. You can choose to use the crusher with the proven direct drive of the diesel engine or via an additional, purely electric drive. As a result, RM TWO GO! means that zero-emission crushing is now possible for the first time with one and the same hybrid machine. Work in tunnels, buildings and underground where emissions are to be avoided can now be handled quickly and easily using machines which feature RM TWO GO!.
More from Roadbuilding
The all-new CASE TR340B compact track loader — operating at 90 horsepower with a 3,400-pound rated operating capacity — is the most powerful radial-lift CTL in the CASE lineup. Its all-new 8-inch LCD display improves on industry-leading CASE visibility with a new backup camera that is viewable in both forward and reverse operation. The display also showcases critical operating information and "trip" details. All-new electro-hydraulic controls, managed through the display, make it easier than ever for operators to dial CASE CTLs into specific application demands. All new cab controls and joysticks make the new TR340B easy to own and operate.
Industries such as construction, mining, energy, utilities and forestry, face many challenges when it comes to tracking assets and employees. Equipment often has to be transferred between locations, or monitored while it is dormant during off seasons. Lone workers may have to travel long distances or visit multiple sites during the course of their activities. And, all of this is further complicated today with shifting supply chains and economic realities putting further strain on the bottom line.