Cat RM500B Rotary Mixer Offers Sophisticated Yet Easy-to-Use Controls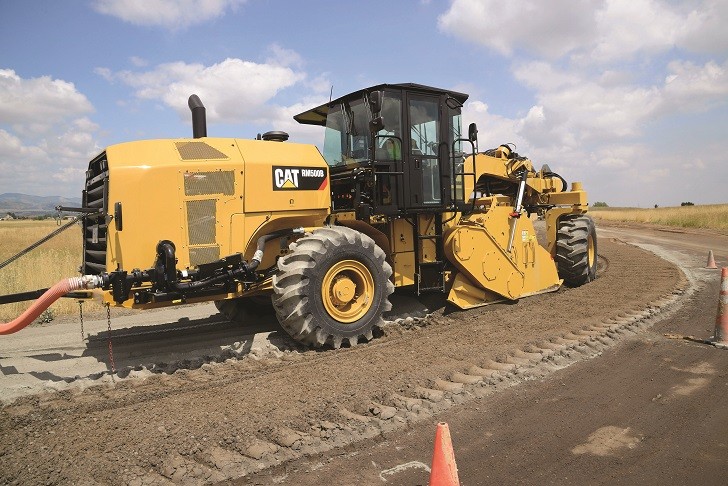 The Cat RM500B Rotary Mixer is powered by a CAT C15 Acert turbocharged 407kW (546-hp) engine and comes with electronically controlled, full-time allwheel drive and four-mode steering.
The machine is able to work in both forward and reverse due to adjustable front and rear doors on the large, variable-volume mixing chamber mounted mid-point between the front and rear tires. The heavy-duty front door is powered by two hydraulic cylinders for raise and lower. The front door raises parallel to the cutting surface to prevent the door from plowing material in harsh soil stabilization conditions. This is ideal for peak efficiency on soil stabilization, bioremediation or during mixing passes on full depth reclamation.
The rear door is also hydraulically operated. The operator can control the sizing of the material by adjusting the rear door opening. The narrower the opening, the longer the material is processed in the rotor chamber and the finer the sizing.
The operator can activate the automatic rotor load control with a button on the control console keypad. The on-board microprocessor constantly evaluates engine rpm and propel speed as required to maintain peak performance. The RM500B also provides three modes of rotor depth control: travel, manual and automatic.
The mechanical rotor drive system allows efficient and reliable transfer of engine power to the rotor and is sized to handle tough cutting and deep mixing. A keypad button on the control console is used to engage or disengage the rotor transmission.
A choice of three rotor speeds permits working in a wide range of materials, depths and applications. First speed is used primarily for pulverizing the material. Second or third rotor speeds can be used in blending or mixing passes. The rotor speed selection buttons are located on the control console keypad.
Three rotors with a cutting width of 2,438 mm (96 inches) are available. The universal rotor can be used for either full depth reclamation or soil stabilization; the soil rotor is used for a variety of soil mixing and stabilization applications and blends additives with semi-cohesive or granular materials; and the combination rotor is designed primarily for use in soil stabilization applications in cohesive materials but also works well for light asphalt reclamation.
Maximum cutting and mixing depth is 406 mm (16 inches) for the universal rotor. Maximum mixing depth for the soil rotor and combination rotor is 508 mm (20 inches).