Rental company targets their services
Compact Rentals is unique in the fact that they specifically target both the dirt and underground service markets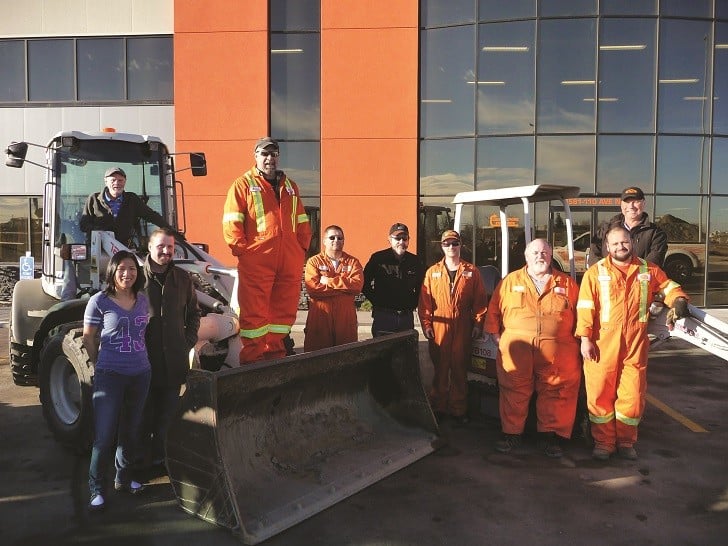 Jerry LaBoret has lived his dream of starting and owning his own company, Compact Rentals, in Calgary, Alberta. Established in 1980, Compact Rentals does not offer a full line of rental equipment, nor do they rent to homeowners: their market is underground and paving contractors.
Back in the early 2000s, Compact Rentals had a brand of skid steers that they rented out from one of their main dealers. That dealer ended up being bought out and the new company instantly spiked prices on all their equipment, services and overall operation. For Compact Rentals, it was not so much about the price of equipment but rather the support that meant the most to them.
They decided to look elsewhere and compare prices. They started working with Currie Frank, who sold them 20 Takeuchi excavators and 20 skid steer models from a dealership he worked for in 2002. Frank wound up leaving that position to become the branch manager for W.R. Scott Equipment. Compact Rentals had a very good relationship with him because of the services he provided, so their allegiance changed with Frank's move.
W.R. Scott Equipment, which is a family-owned company similar to Compact Rentals, features the full Takeuchi lineup, consisting of skid steers, excavators, wheel loaders and compact track loaders.
Compact Rentals has converted a lot of customers to Takeuchi by renting the skid steers and excavators to them. "Those companies now actually prefer Takeuchi for many reasons, including the cab size, performance, and the products reliability out on the job," said LaBoret.
"We have done very well with Takeuchi and while we are not a dealer for them, we display their products proudly here."
One of the big selling points for LaBoret, specifically on the Takeuchi skid steer lineup, is the room in the cab. He also really likes the excavators because of their strength and reliability.
"I really like that the door lifts up on the Takeuchi skid steers – my old manufactured skid steers featured a more rounded door that was very confined," LaBoret said. "Whether you have a larger or smaller operator, all they have to do is lift the door up and back right in there. Not only is there a lot of room but it also features an air-conditioned cab, which our customers appreciate. The excavator lineup has been great for us as well. They are so reliable and don't have the breakdowns like other excavators I've carried. They are quite bulletproof."
A new dream and new facility
A new dream is now in the works for Jerry: handing over the reigns of his company to his son Rod. Rod is involved more on the day-to-day rental side of the business, while Jerry takes care of their property companies and other businesses that they have invested in.
Jerry's wife Jenny has been an integral part of the business as both his business partner and financial advisor for all 35 years that they have been in business. She is training Rod's wife, Villy, to move into her accounting and administrative role.
"I attribute a lot of my success to Jenny. I really value her advice and business acumen," said LaBoret. "I always know what is going on with my family because Rod and I have a coffee first thing in the morning each and every day. I look at him step up and it really is wonderful to see a second generation taking over my dream. I also have the utmost trust that my daughter-in-law will succeed in Jenny's role when we retire. Having a succession plan in place for both my wife and I is just a fantastic feeling."
Most recently, the LaBoret's built a $15 million complex that they just moved into. Rod works downstairs while Jerry operates in the upstairs area, allowing the two to work together while still giving each other space.
If their new facility is an indication, Compact Rentals has made quite a name for themselves in the Calgary area. Mom and pop shops tend to treat their customers like family and for this family it is not just a mom and pop shop but a son and daughter-in-law one as well.
Jerry and Jenny LaBoret may be nearing an end to their careers at Compact Rentals but they can rest easy knowing that they are handing it down to someone who cares about their dream as much as they do. With 20 years in the family business, Jerry knows his son Rod and daughter-in-law Villy will keep the company moving in the right direction for a long time to come.
Related Articles
Technology can help fix Canada's infrastructure and housing challenges, says KPMG survey