Wide screed simplifies paving and cuts costs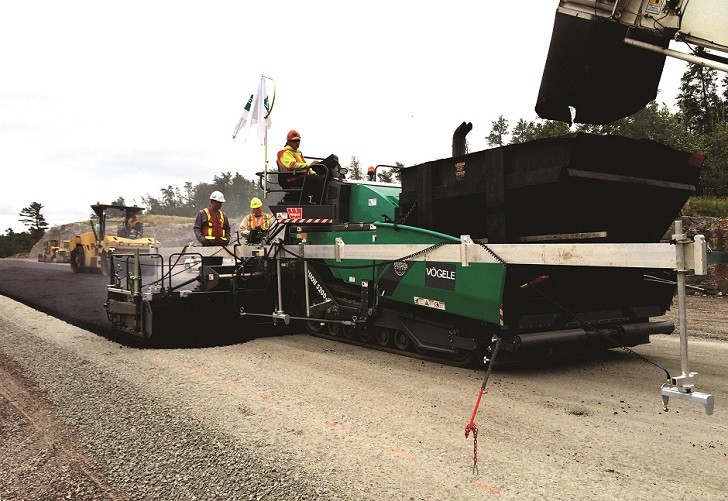 Use of a screed extended to 8.53 metres (28 feet) enabled Pioneer Construction of Sudbury, Ontario to pave two lanes wide on a provincial highway without using a second paver.
The paver – a 3.05m (10-foot) Vögele Vision 5200-2i with the Vögele VR 600 rear-mount screed – paved an 11-km-long section on Highway 69, a two-lane highway that was being rebuilt to four-lanes. The Ontario Ministry of Transportation project required close to 200,000 tonnes of asphalt for the entire 20 km.
Eliminating the "cold" longitudinal joint was paramount in the paving.
"Specifications required that you had to pave in echelon, or wide-pave," said Malcom Croskery, P.Eng., regional manager, Sudbury operations, Pioneer Construction. "We would have had to run two pavers but we found that using the Vision paver with the extra wide screed let us run just one paver two lanes wide."
The tracked Vision 5200-2i and same width wheeled Vision 5203-2i pavers are designed especially for the requirements of the North American market. These versatile pavers are suitable for urban applications, as well as for highway, airport and commercial work. They are the successor models to the Vision 5200-2 and 5203-2.
The tracked Vision 5200-2i has a maximum paving width of 8.53 m (28 feet), with a maximum laydown rate of 1,300 tph, and a transport width of three metres. It's equipped with ErgoPlus, Vögele's total design concept for easy paver operation and full onboard diagnostic system for all electrical circuits. ErgoPlus simplifies the operators' work and provides comfort, while offering owners unobstructed operator visibility of material hopper, screed and auger tunnel. The i-class Vision series pavers are extremely cool and quiet during operation.
The tracked Vision 5200-2i is designed primarily for use in highway construction, where power and productivity are paramount. With a powerful six-cylinder Cummins engine delivering 186.5 kW (250 hp), the heavy-duty paver achieves paving speeds up to 76 m/minute and travel speeds up to 12 km/hr, both infinitely variable.
The large material hopper holds 76.2 cubic metres (14,243 kg), and is dimensioned so that plenty of mix can be available at all times. Two cylinders per side provide smooth operation. Continuous rubber tracks, 457 mm (18 inches) wide, with self-aligning front idlers, provide optimal steering under any conditions. Dual track tensioning cylinders provide perfect alignment.
The 5200-2i's powerful Tier 4 Interim Cummins engine provides excellent horsepower-to-weight ratio, and the paver benefits from highly efficient cooling for longevity of all paver components. Its advanced design provides precise material handling, and its innovative and reliable drive concept provides detailed tracking.
One paver simplified operation
The binder, or levelling course asphalt was placed 90 mm thick and a material transfer vehicle was used. "With this kind of job, when you are using an MTV, it has to feed both pavers, with the conveyor slewing back and forth," Croskery said. "It becomes quite a production, with juggling back and forth with health and safety issues. By running one paver we were able to simplify the operation, and it's a lot safer as the equipment is not moving around as much. And we were able to get just as much, or more, production per day. With one paver you are able to continuously go, and it turned out really well."
Later, the surface or friction course was placed with a paved shoulder as well as the two driving lanes. For this, Pioneer was able to use two pavers instead of three. Tom Kuennen is a technical writer covering asphalt paving.