Moncrief Adds Civil Construction to Its Wide Range of Services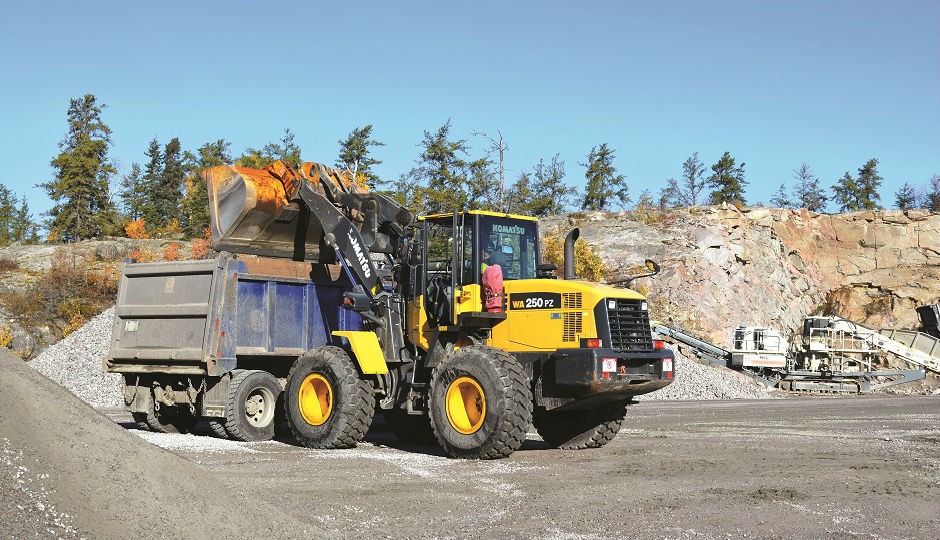 During the five decades since it was founded, Moncrief Construction has added an exhaustive list of services that make it one of Ontario's most multifaceted contractors. It offers road, bridge and dam construction; portable crushing operations that supply material to its own jobs, as well as custom crushing for others; turnkey land development from design and engineering to final grade; and mine and land reclamation. The company is based in Kenora, Ontario, close to the Manitoba border, and has about 130 employees.
Last year marked another new chapter in the history of the company as owner Alf Moncrief added civil construction to the company's mix of services.
"One of our greatest strengths is providing customers with a complete package that takes their concepts from initial stages through fruition," said Moncrief. "We thrive on comprehensive projects that involve multiple facets. Much of the work is handled in-house. Paving and some ancillary work is subbed out but we take responsibility for getting it done so that projects meet customers' schedules and budgets.
"We're also flexible and can break out services individually," he added. "For instance, we do quite a bit of rock excavation, which is one of our specialties. We sub out the drilling and blasting, then come in behind the sub and dig it out and haul it, usually to an on-site stockpile for crushing. We just finished a project that involved moving 300,000 cubic metres of rock to make way for a new hydroelectric dam."
Alf's parents, Harold and Margaret Moncrief, founded the business in 1967. In the late 1970s and early 1980s, Harold installed all of the power lines to the mines around Balmertown, Ontario, which allowed the company to expand as other work presented itself. Alf joined the company full time in 1987, about the time the business really exploded. Today, he estimates about 60 to 70 percent of the company's work is private, and 30 to 40 percent is public.
In its earliest days, the company focused on building hydroelectric and telephone transmission lines. Almost 50 years later, Moncrief Construction maintains its roots and still builds hundreds of kilometres of overhead, high-tension transmission, distribution, telephone, cable and fibre-optic lines, even in some of the most remote, rocky and rugged locations.
Depending on the voltage of the lines, it clears 10- to 30-metre-wide strips of land before putting up poles and stringing wire. For a recent job, Moncrief ran 250 kilometres of fibre optics from Kashabowie to Fort Frances.
"We take great pride in completing even the most challenging projects on time and on budget," said Alf Moncrief. "Our manpower and equipment allows us to do that. We're highly experienced, with some people who have been on staff for 25 to 30 years. We have radial-boom derricks, rock-boring machines and highfloatation tracked machines that can go through swamps and other nasty conditions. In some instances, where the terrain is prohibitive, we hand drill with hydraulic packs, blast and set poles with helicopters. Whatever it takes, we can do it."
A mix of work
Moncrief estimates that 70 percent of the company's total work is heavy construction, specialty projects and crushing at its three spreads. The other 30 percent is pole-line installation.
Specialty work includes projects, such as building an approximately 120-kilometre-long winter road across Red Lake to connect the 400-person Poplar Hill First Nation to the mainland, using snow machines, plows and other equipment during the winter. It also provides annual cathodic protection service to the TransCanada Pipeline, which moves natural gas across Canada.
Moncrief Construction recently completed several projects, such as site prep for 10- and 15-megawatt solar-panel farms in Rainy River, which included roadwork, bases for slabs and trenching for electrical vaults. In Montreal River, Moncrief provided road building and crushed about 275,000 metres of rock for a new wind farm. It worked as a subcontractor on both jobs.
As a general contractor closer to home, Moncrief Construction installed about 800 metres of sewer and water upgrade for the city of Kenora as part of its downtown revitalization. It called for new road surfacing, sidewalks and drainage, among other items. The project presented challenges, including questionable soil conditions and existing utilities with little-to-no record of size or location.
Essential to have a number of different size machines
Moncrief Construction uses several Komatsu excavators, ranging in size from a 5,160-kilogram PC55MR to a newer 49,550-kilogram-plus Tier 4 PC490LC-10. For moving pipe and other materials during utility installations and on its three portable crushing spreads, Moncrief employs Komatsu wheel loaders, including WA250PZ, WA470 and WA500 models. The company equips them with quick couplers for fast changes from buckets to forks.
"Because we have such varying jobs and conditions, it's essential to have a number of different size machines," said Moncrief. "Every one of our Komatsus is productive, from the smallest to the largest. The wheel loaders give us versatility, and in all applications, they have good power, while remaining smooth to operate. The visibility is excellent, and the operator comfort is second-to-none."
Moncrief also uses a Komatsu D39 dozer and HM300 articulated haul trucks. The company tracks the Komatsu equipment with Komtrax, checking for hours, machine location, idle time and other productivity measures. It turns to SMS Equipment as needed for service and support.
"We have a full shop but we get busy and can't always cover all our maintenance needs, so we call on SMS to help," said Project Manager Robbie Perchuk. "Whenever we need something – sales, parts or service – they step up and take care of it right away. Whatever it is, we're confident that calling Joe or anyone else at SMS will get us a quick solution. I especially appreciate their complimentary service and 50-point inspection on the Tier 4 machines under the Komatsu Care program. It is peace-of-mind and added-value to know we have that three-year or 2,000-hour window of time where we don't have to think about scheduled maintenance."
Growing use of technology
Moncrief plans for the new Civil Division to take up a greater percentage of Moncrief Construction's overall work load within the next few years. He's also looking at GPS-based systems for grading. "A lot of our work doesn't require a site plan, so technology, such as GPS grading, hasn't been a necessity," said Moncrief. "As our Civil Division grows, I believe the need for technology will grow too. We've always been open to technology, such as Komtrax, and GPS grading would be the next step for us."