FINDING THE RIGHT MACHINE TO CRUSH BASALT ROCK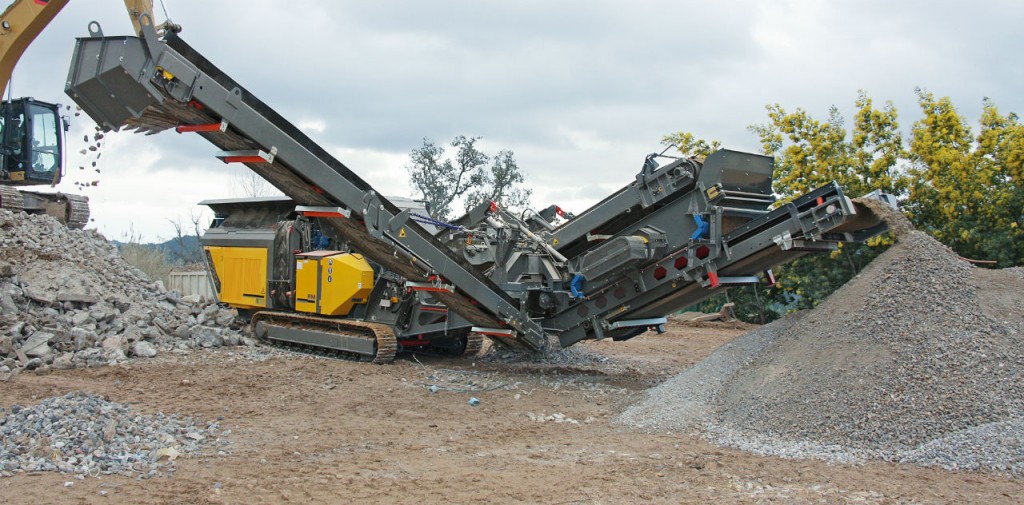 Portland Road and Driveway is a family-owned business, founded in 1947, that focuses on all aspects of construction, including excavation, grading, rocking, storm water management, demolition and asphalt paving. Owners Tom and Amanda Bright also produce aggregate materials in their sand and gravel quarry where they needed to crush basalt – a real challenge for any machine.
The Brights had been struggling with very specific crushing demands for quarrying – with regards to materials, safety requirements and grain size – and also for recycling.
At the CONEXPO-CON/AGG 2014 trade show in Las Vegas, they finally found a like-minded partner and solution for their challenge, plus all the support they needed.
During a course at the show on construction recycling practices for small demolition and site contractors, Tom first heard of a portable crusher from Rubble Master, which led him to visit the RM booth. Tom and Amanda soon became familiar with RM and their product line and realized that RM's approach to business was very much like their own. Both companies focus on customer service, striving to be a reliable business partner offering professionalism, integrity, open communication, honesty and fairness.
From decision to purchase – the RM Xperience
After months of analyzing financial data and getting the opinion of an objective contractor, they narrowed their search down. Tom and Amanda were desperate to find a machine that was able to crush asphalt, concrete and also round basalt. Understanding the importance of this, RM took samples of their basalt to Linz, Austria and began to work on options for them. Shortly after that, the Brights made the decision to attend the RM Xperience Days in Austria.
"At the RM factory it became apparent that the outstanding RM design applied to more than just their crushers," said Tom. "The RM headquarters is an impressive achievement all on its own."
RM Xperience Days was Tom's first opportunity to see an RM crusher working in person. "To say we were impressed is an understatement," he said. He left Austria three days later as the proud owner of a new RM 100GO! crusher.
Post purchase and training
Once the equipment was delivered, RM Service Manager Scott Price and Sales Manager Franz Niedermeier taught the crews about the crusher and scalping plant. Their primary goal was to teach and then step aside. This way the RM team quickly prepared the crews to be independent while providing phone numbers the operators could call if assistance was needed.
"With their help," Amanda said, "we have been able to crush concrete and rock meeting Oregon Department of Transportation specifications for 3/4- to 0-inch and 1.5- to 0-inch – something we have never been able to do."
After a short time in use, the RM machines have proven tremendously cost effective, she added. "Everything is very well engineered and well thought-out, from simple hammer and screen changing to a multitude of crusher settings."
Safety requirements met
The RM 100GO! even meets the high safety requirements of the Mine Safety and Health Administration (MSHA). At an unplanned inspection, the inspector stated that the machine was the first one ever with no objections, pointing out the built-in safety features of the machines.
"To say that we are pleased with our purchase would be an understatement," Amanda said. "This machine has changed not only our bottom line, but our outlook on how we build projects. We can't wait to see where we go from here."