Unique Design of Stedman Cage Mills Offers Very High-Ratio Size Reduction with No Decrease in Quality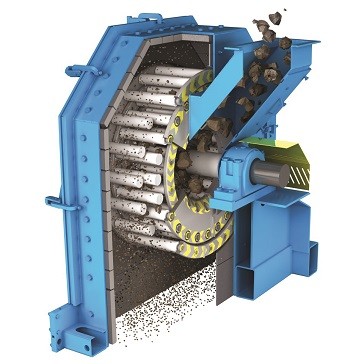 Stedman is promoting its "One-N-Done" cage mill line by re-educating process engineers about the unique design aspects of cage mills. Cage mills are capable of very high-ratio size reduction with no decrease in quality of the product even after long periods of operation. High size reduction ratios offer cost savings in handling, maintenance and wear parts.
Cage mills reduce materials by using nested cages with rows of impact bars. The cages – consisting of 2, 4 or 6 rows – are arranged concentrically, with each row spinning in the opposite direction. The material is fed into the centre of the innermost cage, where it is struck by spinning rows of cage pins and distributed 360 degrees around the cage. Properly presetting the speed of the cages allows the succeeding rows, moving from the innermost outward, to act principally on the particles that have not yet been reduced to the desired size. Particles that have been crushed sufficiently tend to pass through the subsequent rows without being affected. Thus, over crushing or under crushing is effectively controlled by adjusting the speed of the cages, and a very high size reduction ratio is accomplished.
Stedman offers a full line of cage mills for almost any material or application, from wet and sticky to dry and friable.