Carhartt Announces High Visibility Safety Apparel in Eight New Styles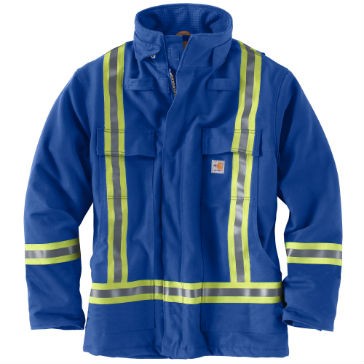 Carhartt is introducing eight new styles of protective clothing with 360 degrees of reflective striping visibility to meet the safety needs of workers within Canada and the United States. The new releases include six flame-resistant styles and two non-flame-resistant styles.
The flame-resistant styles meet the U.S. performance requirements of NFPA 70E and are ULR classified to NFPA 2112.
Many of the flame-resistant styles are comprised of fabrics and trims that meet Canada's CSA Z96 and CGSB155.20 safety standards.
"It's important to Carhartt that workers within Canada and the U.S. know that we are making advancements to meet industry guidelines to keep them safer on the job," said Deb Ferraro, vice president of product and design at Carhartt. "The reflective striping in these eight new styles allows the wearer to be more easily seen on the job, which makes for a safer work environment for all."
The eight styles are constructed with trims from Davey Textiles Solutions Inc., with 3M Scotchlite Reflective Material for enhanced visibility and are either compliant to the American National Standards Institute (ANSI) or the Canadian Standards Association (CSA) standards. Of the eight new styles, six are flame resistant and all include reflective taping in an "H" pattern on the front, "X" pattern on the back and striping around sleeves or legs.
(6) Flame-Resistant reflective styles:
101628 FR Striped Duck Bib Overall/Quilt-Lined
101695 FR Striped Duck Traditional Coat/Quilt-Lined
101699 FR Striped Force Cotton Long Sleeve T-Shirt
101700 FR Striped Klondike Sweatshirt
101703 FR Striped Duck Bib Overall/Unlined
101705 FR Striped Coverall
(2) Non Flame-Resistant reflective styles:
101694 High Visibility Striped Duck Traditional Coat/Quilt-Lined
101696 High Visibility Striped Duck Bib Overall Arctic Quilt-Lined