Spider Provides Float Platform for California Bridge Maintenance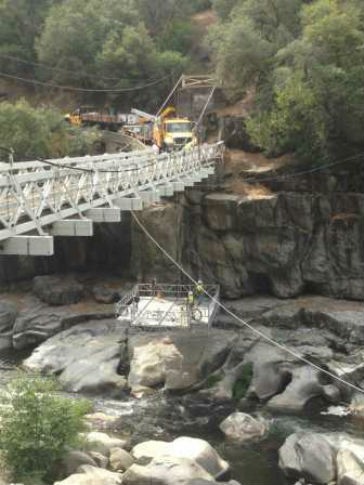 Spider, a division of SafeWorks, LLC, recently provided the suspended scaffolding solution for maintenance on a wooden suspension bridge that spans the south fork of the American River in Placerville, California.
The seventy-five year old Mosquito Bridge is just 9 feet wide and 140 feet long, but it is crossed by about 1,300 vehicles daily. The El Dorado County Transportation Bridge Crew has been loyally using Spider equipment for annual maintenance projects for several years, and this summer, they immediately turned to Spider for the replacement of the main wooden support beams that ranged from 500-800 lbs each and up to 18 ft in length.
Spider provided a 20-ft wide by 24-ft long NextGen float platform, equipped with four double-lined SC1000 air hoists that yielded a total platform load rating of 8,000 lbs. This provided sufficient space and capacity for two workers to simultaneously dismantle an old beam below the bridge and install a new beam. Due to the narrow roadways and rugged terrain, the platform was assembled off-site and rigged into place with a crane. Spider's team provided on-site training to enable the crew to safely and efficiently operate and reposition the platform.
Additionally, Spider provided two material hoist line kits with SC1000 traction hoists to transport the heavy beams.
"This summer's maintenance project on the Mosquito Bridge required more than just the standard Spider platform we typically use," commented Gino Klare, Bridge Maintenance Supervisor with the County of El Dorado. "Spider understood our needs and designed a custom platform that would work for us. We have found their dedication and commitment to our projects to be invaluable and absolutely essential for the safe and timely completion of our work."