Link-Belt Adds Reach and Capacity to 4-Wheel Rough Terrain, Introduces 100RT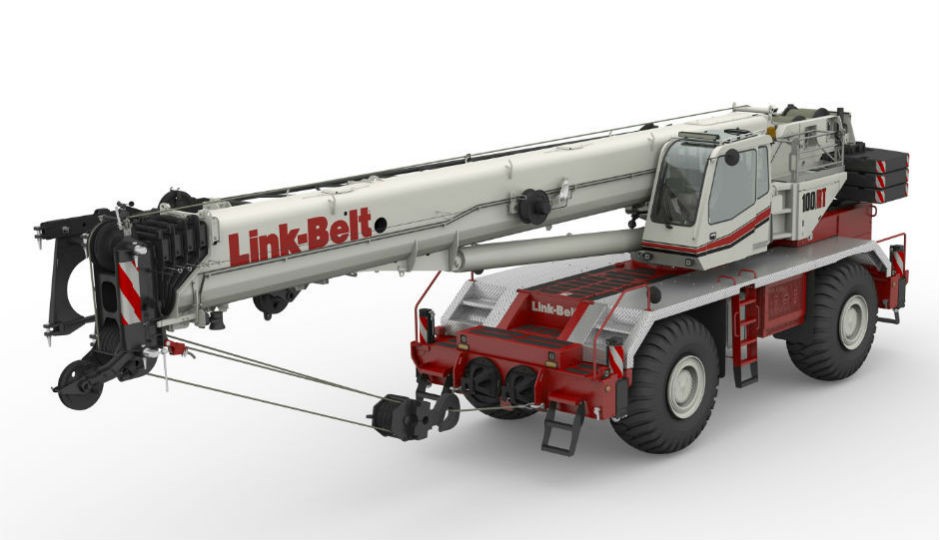 At CraneFest 2015, Sept. 28 – Oct. 2, 2015, Link-Belt Construction Equipment will introduce the 100RT, 100 ton (90-mt) – a new member of its rough terrain crane lineup. Building on the current "mid-size" class of Link-Belt rough terrain cranes, the 100RT showcases Link-Belt's ability to add familiar components customers have come to expect on a Link-Belt rough terrain while setting a new standard for reach and capacity.
More boom
The 100RT will have a six-section pin and latch boom with a length of 164 feet (50 m) and maximum tip height of 261.7 feet (79.8 m). A three piece bi-fold, on-board fly with an integrated 10 feet (3.0 m) section is available and can be manually offset. Operation couldn't be simpler with only four boom extend modes and the ability to telescope under load on the 100RT. The boom design incorporates Link-Belt's standard Teflon wear pucks impregnated into the wear pad surfaces so the boom requires no grease.
Fly options
On board fly options include both two- and three-piece lattice bi-folds, 10-35-58 feet (3.0 – 10.6 – 17.6 m) long; the fly manually offsets to 2, 15, 30, and 45 degrees. An available 10-foot (3-m) heavy-lift fly – integral to one of the fly options – swings and pins into place and has over 24 tons (21.7 mt) of lifting capacity with one-load two-line lift procedures. Two 16 feet (4.8 m) lattice extensions give the 100RT its maximum tip height of 261.7 feet (79.8 m). Fly extensions on the 100RT are interchangeable with several existing Link-Belt RTC and HTC models.
Cab and storage
Dual and single axis controllers are both available on the 100RT, and for high-angle lifts the cab can tilt up to 20 degrees. Standard air conditioning, a sun shade screen, and a five-way-adjustable seat with headrest ensure a comfortable work environment. The operator's cab features a large viewing window, minimizing blind spots with conveniently located controls and readouts, fine metering and Link-Belt Pulse – the Link-Belt designed, total crane operating system.
Operating aids and access
The 100RT camera package enhances on-board site monitoring and includes cameras for viewing to the right side of the upper, the main and auxiliary winch, as well as one for backing up. Another unique safety feature includes LED viewing lights on all four outrigger beams.
As with all Link-Belt rough terrain cranes, six points of access to the carrier deck has been maintained on the 100RT despite additional hardware required for Tier 4 Final engine upgrades. Once on deck, routine checks on powertrain components and fluid levels are a snap with large swing-out doors and LED lighting that reveal the entire engine compartments. A centralized pressure check and grease bank located near the cab allows an operator to monitor multiple pressure and fluid workings from one centralized location. Foldable access ladders and upper guardrails provide reinforced safety boundaries.
Transport at under 100,000 pounds
The 100RT will transport with base unit fully equipped minus modular counterweights at 93,516 pounds (42 418.1 kg). The 100RT has an overall height of 12 feet 10 inches (3.91 m).