McLanahan Concrete Washout System Saves Money and Simplifies Operations for Concrete Supplier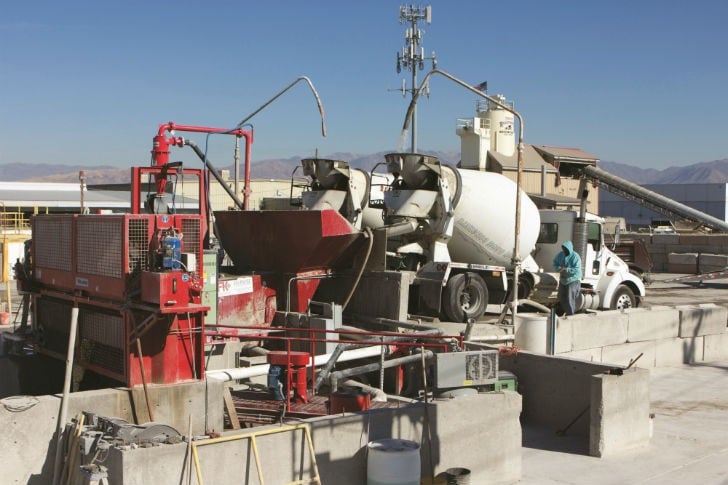 On the first day of the World of Concrete show in 2014, Paul Philips and his sons noticed the McLanahan booth which featured a new and innovative piece of equipment that sparked their interest, the Concrete Washout System. They stopped to ask what it was, what it did and who McLanahan were.
Paul Philips, the owner of Ready Made Concrete, Inc. in Salt Lake City, Utah, soon realized that the system was a potential solution for their messy settling pits and high waste-material disposal costs.
For over 180 years, McLanahan Corporation has built a reputation for producing custom engineered processing solutions for aggregate and mineral processing companies. With their concrete filter press and reclaimers, they bring those same proven technologies to the concrete industry.
Being located in an urban area, Ready Made has limited space on site to dispose of material. For years, they utilized settling pits, which took up a large area on site and needed to be mucked out on a daily basis.
"The slurry was just that, it was liquid and just messy, sloppy," said Philips. "It was impossible to contain and, as a result, we were tracking slurry through our yard, and the trucks were tracking it into the streets and into the public right of way. It was a constant problem for us.
"Once we understood how it worked, the use, and that they had put these presses in, in the past, that intrigued me as well because we were having an issue with water and contamination and trying to reuse water," said Philips. "It was a small footprint and so we thought it would fit within the area that we had designed for our reclaiming system."
The McLanahan Concrete Washout System was installed to follow Ready Made's existing reclaimer. Like most startups, this was not without its challenges. What they soon found out was that a lot of sand was escaping the reclaimer and being passed along to the filter press.
Improving recovery of sand
McLanahan went back to the drawing board to help find a solution. Based on their extensive experience with sand processing in other industries, McLanahan was able to suggest a separator. This would improve recovery at the reclaimer, keeping sand from entering the filter press and settling ponds.
Philips noted that the return on investment (ROI) is easily calculated by just the sand that they are able to recover, which can be remixed into the concrete, saving on the purchase of new sand. Additional savings and ROI can also be calculated based on the reduction of trips to the landfill. Cakes are easy-to-handle and easy-tomanage, unlike the slurry that Ready Made was used to dealing with.
"We have to be grateful that we hooked up with a company like McLanahan that's willing to send a crew of three or four people out here to our little teeny operation in Salt Lake," said Philips. "We were getting the kind of the support that we would hope to get but didn't necessarily expect to get from a worldwide company. Every time there's been an issue McLanahan people have been here to help us and work through the issues."