Link-Belt Widens Telecrawler Offering with the TCC-1400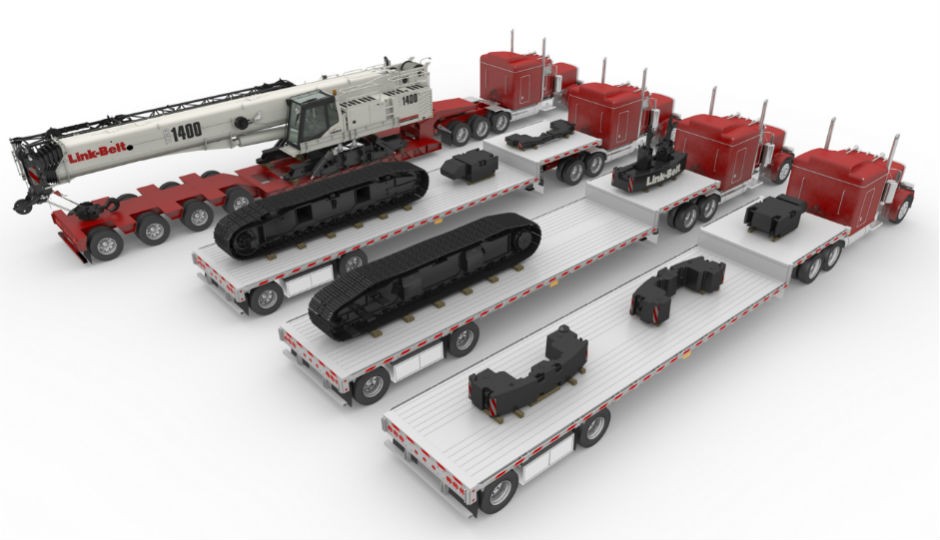 As demand continues to grow for telescopic crawler cranes, Link-Belt is releasing the new, 140-ton TCC-1400. The TCC-1400 widens Link-Belt's telescopic crawler offering, which now spans from 50 to 140 tons with four models.
A pin and latch telecrawler
The TCC-1400 will boast the longest boom length for a telecrawler in this tonnage class. A six-section power, pin and latch boom measures 195.4 feet (59.5 m) and incorporates Teflon wear pucks to eliminate the need for boom grease. The boom, fabricated from ultra-high-strength steel formed in Link-Belt's own facility, will offer outstanding telescoping load capability. An on-board three-piece bi-fold lattice fly will give the crane a maximum tip height of 259 feet (78.9 m).
New features
Among several new features on the TCC-1400 is an electronic inclinometer providing digital readout of list angle. A new auto-idle feature will provide operator-selectable ranges for improved fuel economy, automatically reducing engine RPMs to idle speeds if no function is used for 10 seconds, and resuming preset RPMs once any function is re-engaged by the operator. Other new cab features include an electronic swing brake for maximum control and a virtual wall. With Link-Belt Pulse, the operator can select and define an area work zone to create a virtual wall; the system includes audible alarms and function kick out if the preset zone is reached.
Boom up
The TCC-1400 will offer an impressive capacity chart at radius that rivals lattice crawler cranes with a similar base rating. The 1400 comes standard equipped with main boom list capacities up to four degrees. The heavy-lift fly swings and pins into place with integral attachment to one of the on-board fly options and has over 24 tons (21.7 tonnes) of capacity and lift procedures for two-load-line picks. A new efficient, low effort, fly pinning design is focused on ease of assembly and disassembly of the fly.
Transport
The TCC-1400 moves quickly and easily on or off the jobsite. The main load, on the trailer weighs under 97,000 pounds (43 998.5 kg). Once on the jobsite, the crane can be started and the carbody jacks deployed via remote control. On jacks, the crane sits wider than the competition for a solid self-assembly platform. The TCC-1400's tapered axles instead of traditional stub axles allow for easier side frame installation. Link-Belt's proven and patented TCC counterweight removal system attaches for 57,000 pounds (22 679.6 kg) of upper counterweight and is a six-piece modular design that allows for partial counterweight capacity charts.
Power to perform
Powering the TCC-1400 is a Tier 4 Final Cummins QSL engine producing 320 hp (239 kW) and driving a variable displacement piston pump package. Simple and dependable hydraulic pilot-operated control valves distribute flow to all hoist and swing functions. Three track working positions allow for varying jobsite access requirements and the TCC-1400 can travel up to two miles per hour (3.21 kph).
Standout features of the TCC-1400:
195-foot main boom.
Tilting cab.
Camera system for rear view and winches.
Telematics in place to give real time data to better forecast maintenance and service needs of the crane.
57,000 pounds (22 679.6 kg) of upper counterweight and 25,000 pounds (11 339.8 kg) of carbody counterweight.
Upper guardrails.
Cold weather package option.
Supported 24/7 by Link-Belt Preferred including online manuals, literature, a ground bearing calculator, and 3D Lift Plan.