Chicago Pneumatic 850 CFM Compressor Works Range of Applications With Variable Flow and Pressure Control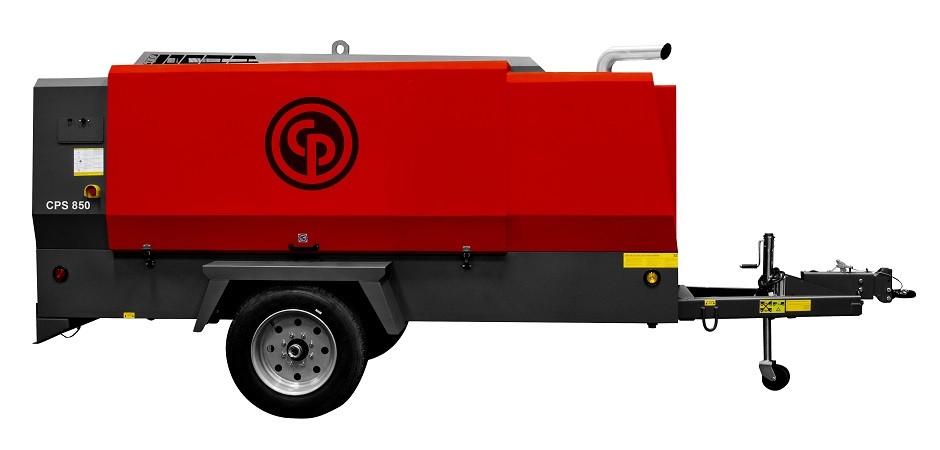 Chicago Pneumatic Construction Equipment has released the CPS 850 portable diesel compressor to the North American marketplace. The compressor can work a range of applications with variable flow and pressure control, making it an incredibly versatile solution on the jobsite. The 850 CFM compressor also features easy operation, simplified maintenance, and a maximum amount of uptime.
Equipped with a 250-hp, 6-cylinder John Deere T4F engine, the CPS 850 compressor weighs 7,980 pounds and measures 203-inches long, 80-inches wide, and 86-inches tall. With an easily adjustable working pressure between 58 and 150 psi, the compressor offers a maximum unloading pressure of 175 psi, and features an 88-gallon fuel tank that consumes fuel at 10.7 gallons per hour.
"With the ability to work on numerous applications, the CPS 850 compressor is a great asset to have on the jobsite," said Eric Massinon, business development manager at Chicago Pneumatic. "While this machine is incredibly efficient, it is also one of the biggest, most powerful portable compressors offered in the Chicago Pneumatic lineup." The CPS 850 has the ability to reach 750 to 850 CFM in actual free air delivery, depending on the pressure needed for the application it is being used for.
Engineered with the operator in mind, the CPS 850 compressor features a simplified maintenance design. Large easy-to-open doors provide quick access to the machine's components, including the airend, engine and electrical components. The compressor also features 100 percent fluid containment that is plumbed to the outside for easy access. Built to work hard, the low-maintenance machine has a 500-hour service interval on the engine and 1,000 hours on the compressor.
Company info
Related products