Rocket Crane Service Lifts 130,000-lb. Steel Shear With Link-Belt Crane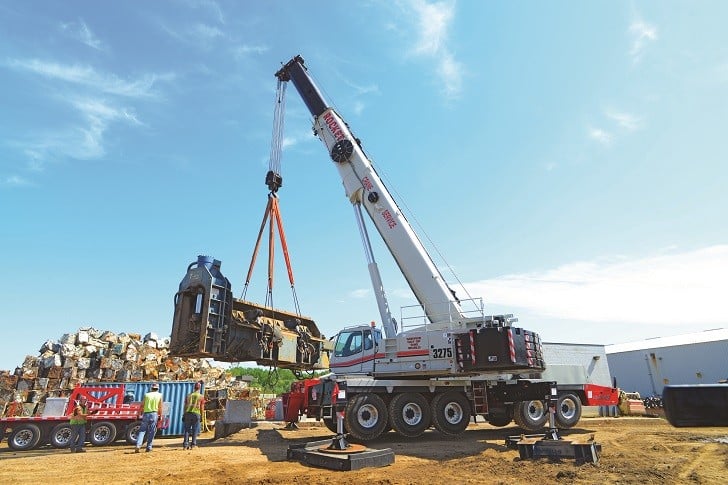 In 1945 Perry B. Hanson started his Minneapolis, Minnesota crane company with an H-3 Bucyrus-Erie Co. crane with clam shell attachments to dig and set underground storage tanks. Nearly 70 years later, Hanson's Rocket Crane Service, Inc. has several new Link-Belt crane models, including an ATC-3275 all-terrain crane the company purchased in early 2013 just before Mr. Hanson retired after nearly 70 years in the crane business. Today the company is run by his two sons, Paul and Pat.
"Even though we got it primarily for the 275-ton capacity, the 3275 can also be rented at a lower capacity 165-ton, 200-ton, or even a 250-ton crane. We did not have that capability before," explains Pat Hanson. Recently at Northern Metals Recycling Company, Hanson put to work the ATC-3275 by relocating a 140,000 lb. (58 967.0 kg) Metso Lindemann LS600 steel shear from its temporary location to a new stationary site at the recycling facility. The 3275 allowed for a change in the original plans (a tandem lift using two cranes and a transport truck) since space at the recycling facility was limited. According to Paul Hanson, "It's tough to work with multiple pieces of equipment in a smaller space. One crane capable of the lift is better in a confined area, and eliminates a tricky tandem lift that would have to be done several times to get the shear to its final destination."
Other concerns were soft, uneven, sloped ground conditions, along with imbalance of the large shear with its extended, housed, 15 foot (4.5 m) cylinder. The shear load was eventually rated at 144,000 lbs. (65 317.3 kg) rigged, and swung at a 30 ft. (9.1 m) radius. Once the shear was placed on the reinforced concrete piles with embedded steel plates, the shear could be properly powered, maintained, stabilized and leveled for long-term use. The shear, with 5,400 psi strength, is capable of cutting up to three inch (7.62 cm) thick steel into two to four foot (.6 to 1.2 m) lengths (e.g. rebar or demolished bridge steel).