Trimble TILOS Version 9.0 Offers Enhanced Linear Construction Project Visualization and Improved Integration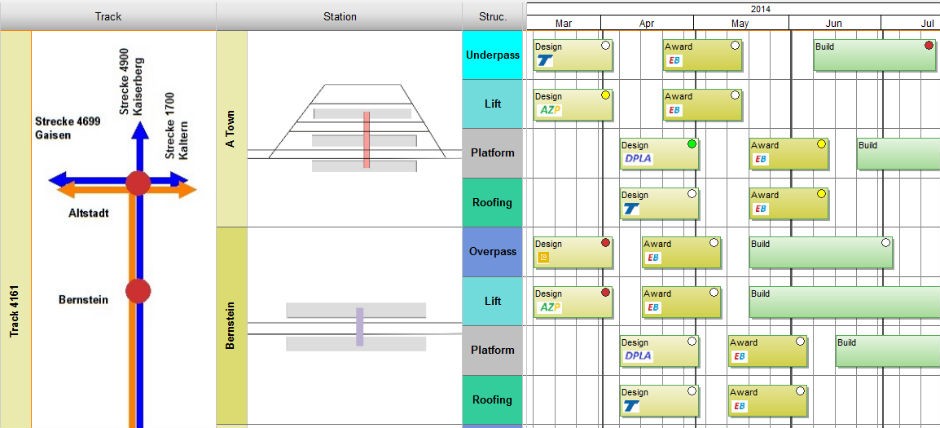 Trimble has announced TILOS version 9.0 time and location planning software for highways, railways, pipelines, tunnels, water engineering, transmission line construction and other linear civil engineering projects. Trimble TILOS merges technical and schedule information into one dynamic plan, giving users more information than Gantt charts or network diagrams alone. The new version of TILOS offers better linear construction project visualization and improved integration with Primavera project management software and Trimble Business Center – HCE office software for heavy civil construction takeoff and data preparation.
Enhanced Visualization
Trimble TILOS version 9.0 introduces a new Gantt chart format that visually connects the site layout with the user-defined time frame of a project. Graphics representing project locations such as bridges, culverts and intersections as well as work types such as concrete, steel or earthworks provide additional clarity, making the plan more intuitive and easier to read at a glance. The new grouping and formatting represent the schedule in a digital wall chart format, which is frequently used in lean production to show progress in a simplified manner. In addition, TILOS can now plan and manage non-linear parts of the infrastructure project for a more complete solution.
Improved Integration
To simplify data exchange, TILOS version 9.0 has been redesigned to improve the integration functionality with third-party project management software such as Primavera, Microsoft Project and ASTA Powerproject. The improved integration allows users to import detailed activity data that includes structures. TILOS version 9.0 also now works directly with the Primavera P6 native .xml file type with no API needed for seamless conversion to a linear schedule in TILOS.
Tighter integration with Trimble's Business Center – HCE, office software for construction takeoff and data preparation, gives users the ability to easily and quickly convert a mass haul plan created in Business Center – HCE into a linear construction schedule in TILOS. Using these optimized mass haul plans, which calculate the volume of material multiplied by the distance it is moved during construction, can enable users to create the schedule with more accurate results in less time.