Ready-mix Concrete Remains Strongest Component in Construction Cost Index
IHS PEG ECCI still fails to move from contraction territory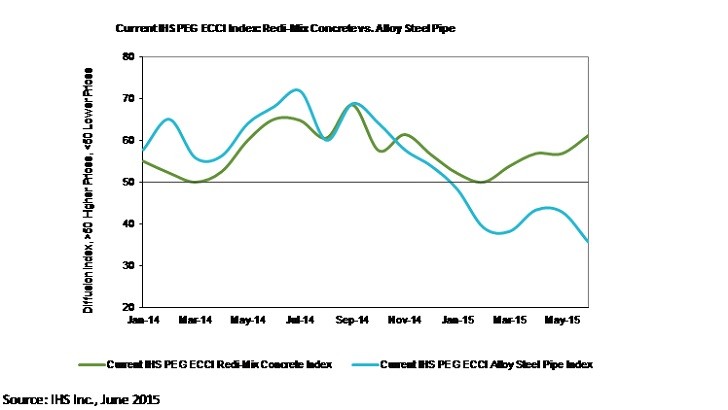 Triggered by lower input prices in alloy steel, construction costs fell again in June, according to IHS and the Procurement Executives Group (PEG). The headline current IHS PEG Engineering and Construction Cost Index (ECCI) registered 47.4 in June, down from May's reading and below the neutral mark. The headline index has not indicated rising costs since December 2014.
The current materials/equipment index registered 46.0, down from 47.4 in May, and is consistent with the overall narrative of softer prices. Seven of the 12 individual components registered falling prices this month. Price declines were led by carbon steel pipe, alloy steel pipe and fabricated structural steel. Alloy steel pipe experienced the largest drop in month on month prices, resulting in the lowest reading since data collection began. Prices also slipped for copper-based wire and cable, reversing gains experienced in May.
"Purchasers of alloy steel pipe are capturing cost savings from lower input prices. Nickel and molybdenum prices – two of the metals key to alloy steel – have experienced significant price declines over the past two to three weeks," said John Mothersole, research director at IHS. "Molybdenum prices are now at 12-year lows; nickel prices are at six-year lows. With the collapse in energy-related investment and subdued pricing pressure for both of these metals, we see limited upside pricing risk over the next six months."
Five components in the materials/equipment index did show higher prices in June, led by ready-mix concrete.
"Prices of ready-mix concrete remained high in June," said Deni Koenhemsi, IHS economist. "Pressure in the market can be seen in both import and employment data. U.S. imports of concrete firmed over the month and employers have been adding to payrolls to keep up with demand. Demand conditions remain supportive of prices, especially in the U.S. South region, where the strongest price increases continue to be demonstrated."
The current subcontractor labour index registered 50.7 in June, slightly above May's reading, pushing prices above the neutral mark for the first time since January. The majority of regions again registered flat labour costs in June, with Western Canada posting a third month of easing prices. The U.S. South reported a slight acceleration of labour costs, breaking a four-month trend of flat costs. Tightness in skilled labour markets continues to be reported in the Gulf Coast.
The six month headline expectations index increased in June, rising to 53.0 after hitting a record low of 44.6 two months earlier. The materials/equipment index rebounded to 52.5 in June from 47.9 in May, marking the first time since January that forward pricing expectations for materials/equipment were higher than current prices. Eight individual components registered higher price expectations, led by ready-mix concrete. Expectations for subcontractor labor registered 54.3 in June, slightly weaker than May's reading of 55.8, but still in expansionary territory. Expectations for subcontractor labour costs were mixed across North America with the U.S. South registering the strongest expectations for price escalation over the next six months and Western Canada maintaining its expectations of falling prices over the next six months.