Oxford Plastics Road Plates Make Maintenance Work Safer
Company Wins Innovation Award at Preventica 2015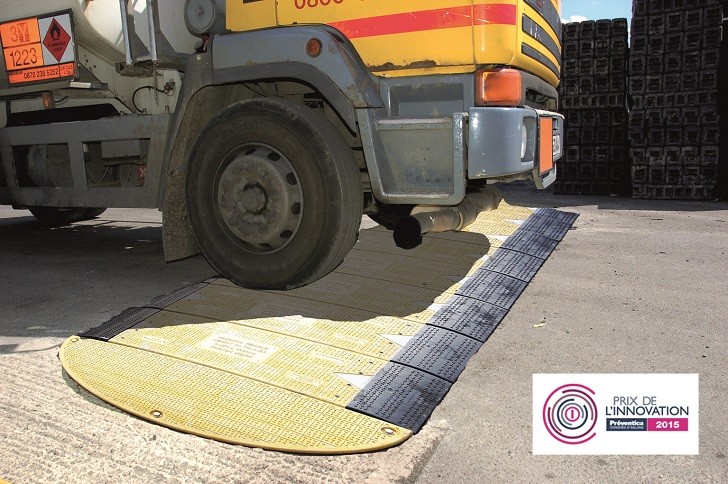 U.K. manufacturer Oxford Plastic Systems has won an award for its innovative road plates at a health and safety industry exhibition in France.
Oxford Plastics exhibited its road plates – which ensure the safety of contractors, pedestrians and vehicles during utility, cabling and maintenance projects – at Preventica 2015 in Toulouse, where the product received the Innovation Award in the site safety category.
Made from composite materials and much easier and safer to maneuver than heavy steel plates, Oxford Plastics road plates can simply be lifted into place by two people, eliminating the need for heavy lifting equipment – yet they are strong enough to withstand the weight of a 96,000-lb truck and comply with the AASHTO (American Association of State Highway and Transportation Officials) HS20-44 standard.
The plates feature an integral flexible edge made from a PVC compound, which acts as a noise dampener when vehicles drive over them, providing the ideal solution to urban-area noise pollution caused by the knocking of steel plates.
Popular with utility firms, this product is particularly successful in allowing the temporary re-opening of carriageways during the rush hour to reduce traffic delays. As a modular system which can be locked together to create a range of sizes, the plates also offer flexibility to suit each specific situation.
This product previously scooped the Innovation Award in the public and roadworks section at the Salon des Maires exhibition in Paris in 2012.
Peter Creighton, Business Development Director for Oxford Plastic Systems, says: "We are delighted to have won yet another award for our innovative road plates, which are leading the way in reducing risk for contractors, pedestrians and vehicles at roadworks and building sites.