Rental and Sales of JCB Compactors Drive Success
Calgary company is JCB's only standalone compaction dealership in the world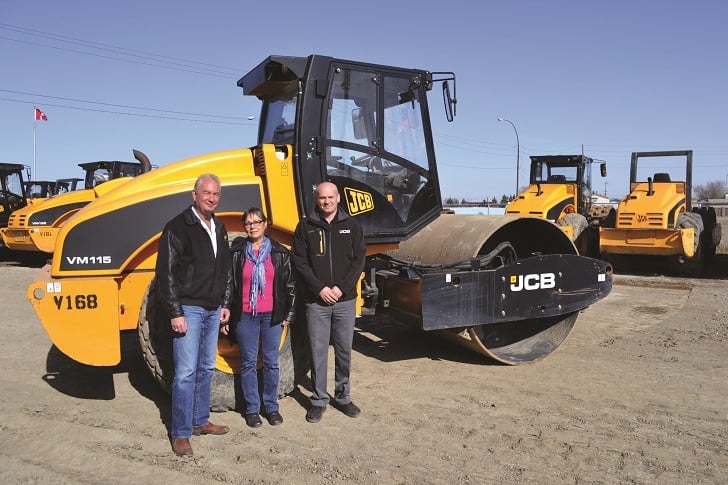 J.R. Construction Equipment Sales & Rentals in Calgary is the only JCB standalone compaction dealer in the world. Their company's profitable business model demonstrates that specialized equipment dealerships today have as much success potential as dealerships that offer multiple equipment lines.
John Vandermeer and his wife Rosalie didn't start off with this exclusive focus. In 1987, John used his extensive firsthand experience in the parts, service and sales of construction equipment to open a traditional equipment dealership in partnership with Rosalie. They offered a full line of equipment for sale or rent. Over time, however, they moved away from this standard model and in 1997 they began selling and renting only JCB compaction equipment from their 6,200-square-foot, 1.25-acre location off Peigan Trail in Calgary.
"When operating as a full-line dealership, I noticed there was a strong need for compaction equipment rental in the area," John said. "While customers bought traditional earthmoving machines, they were reluctant to buy more specialized products like rollers, or 'packers' as they are referred to in Alberta. Because compaction equipment in general is costly and not utilized on a daily basis, contractors didn't want to tie up their capital by purchasing new units and didn't want the maintenance headaches of another machine.
"Our success has come through renting compactors, then selling them used after they've been rented down to a comfortable price point for the customer."
Do one thing and do it well
The decision to do one thing and do it well by focusing on compaction has continued to fuel the company's success nearly 20 years later.
"The traditional dealership model at the time was trending towards being all things to all people," John said. "We went a different route by specializing in one thing. We positioned ourselves as specialists and have become the go-to source for compaction equipment, providing 75 percent of the rental units in our area each season."
With an additional concentration on simplicity, John and Rosalie decided to offer only one brand of compaction equipment early on: the then Vibromax, now JCB, brand.
"I had a background with Case before opening J.R. Construction Equipment Sales & Rentals," said John. "At the time, Case was marketing the Vibromax brand. Later, Vibromax marketed the line directly before being acquired by JCB. We chose these rollers because they were field proven. Their German heritage gave us confidence they were well designed and engineered for productivity, easy-to-service and well-regarded by customers in our area. People come here specifically to rent a JCB roller."
The serviceability of JCB rollers speaks for itself. J.R. Construction Equipment Sales & Rentals manages and services their entire fleet of 70+ rollers with just two mechanics. This team of two handles the entire parts and service sides of the business. "Because our team works exclusively on JCB rollers, they know the product inside out. They know what to look for and inspect each unit every time it comes off rent before its sent back out into the field. We have perfected efficiency with our current business model. One brand and common parts across our fleet allow us to stock only what we need, while minimizing downtime," said John.
Specialization and simplicity are further enhanced by using dedicated outside resources to meet customer financing and trucking needs. "We let trucking companies be the specialists when it comes to transporting equipment. We let lenders do what they do best when it comes to financing. This helps us keep rental costs down, something our customers appreciate, while maximizing cash flow," said Rosalie.
Today, J.R. Construction Equipment Sales & Rentals has a combination of 72 JCB smooth drum and padfoot rollers in their fleet, some with JCB's convertible shell kit for customers who need to compact both clay and stone on the same project. The rollers are serviced both in the field and at the company's Calgary location in one of four service bays, one of which includes a pressure washer to clean each machine upon its rental return. "We treat each machine like we plan to own it forever. This keeps residual values high throughout the fleet," said John.
According to Dean Oxford, JCB's regional business manager in Calgary, "J.R. Construction Equipment Sales & Rentals has an additional five machines on order. These new models include the first JCB VM 137 rollers sold globally. So not only is their fleet large, they offer the newest range of JCB 84-, 69- and 55-inch rollers available."
J.R. Construction Equipment Sales & Rentals has sold nearly 300 rollers since 1997 and continue to be the go-to resource for compaction equipment in Calgary and surrounding communities.