Haver & Boecker's Tyler Hydro-Clean Creates Cleaner Product with Higher Selling Value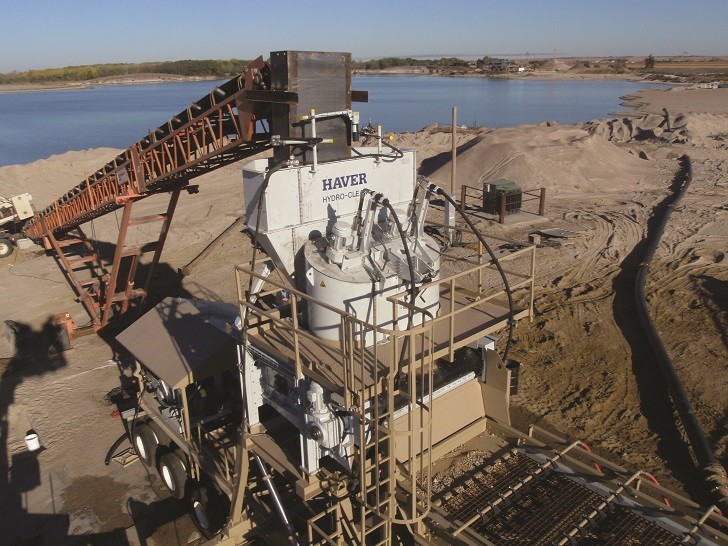 The Tyler Hydro-Clean washing unit from Haver & Boecker effectively cleans deleterious material from aggregate, recycled and other minerals while reducing water consumption by as much as 75 percent compared to traditional log washers.
Unlike traditional washing systems that can require as many as three screens along with a log washer or screw, a producer only needs an additional wash screen for the Hydro-Clean's discharged material. The Hydro-Clean comes in three model sizes that produce 18 to 360 tons per hour, depending on the application: the HC350, HC1000 and HC2000.
Taking feed material size as large as six inches (150 millimeters) into its vertical drum, the Hydro-Clean employs high-pressure nozzles, rotating at 90 rpm, to spray as much as 90 percent recycled water on the material with pressures as high as 2,000 psi (140 bars). The washing unit removes silt and clay particles as small as 63 microns from mineral mixtures, and depending on the model and application, the Hydro-Clean processes as much as 360 tons per hour with its short retention times.
Due to its compact size and weight, overall operating and structural costs are considerably lower than with traditional washing systems, which also require more equipment and a larger footprint.
The Hydro-Clean consumes little water and power. Water consumption ranges from 27 to 211 gpm, depending on application and model size. In comparison, log washers use as much as 800 gpm of water. Power requirements for the Hydro-Clean also are less than log washers; Hydro- Clean's largest model uses no more than 300 horsepower (225 kW). When compared to conventional systems, the Hydro-Clean experiences little wear thanks to a maintenance friendly design that allows for easy exchange of the few standard components that are subject to wear.
Ideal for use in clay-heavy material deposits, the Hydro-Clean is fed dirty material via a hopper into its vertical drum. Once inside, high-pressure nozzles mounted at the top rotate and spray the material with water. The turbulence in the drum creates additional scrubbing and abrasive forces that enhance the cleaning process as the material travels down the drum cylinder. High-pressure streams of water are injected into areas of the rock (holes, cracks, etc.) that are difficult to reach with traditional cleaning methods, such as log washers or screws – creating a cleaner product that generates higher selling value. In addition, many producers use this unit to turn material that was once waste into sellable product.