MB Crushers Help Profitability in Quarries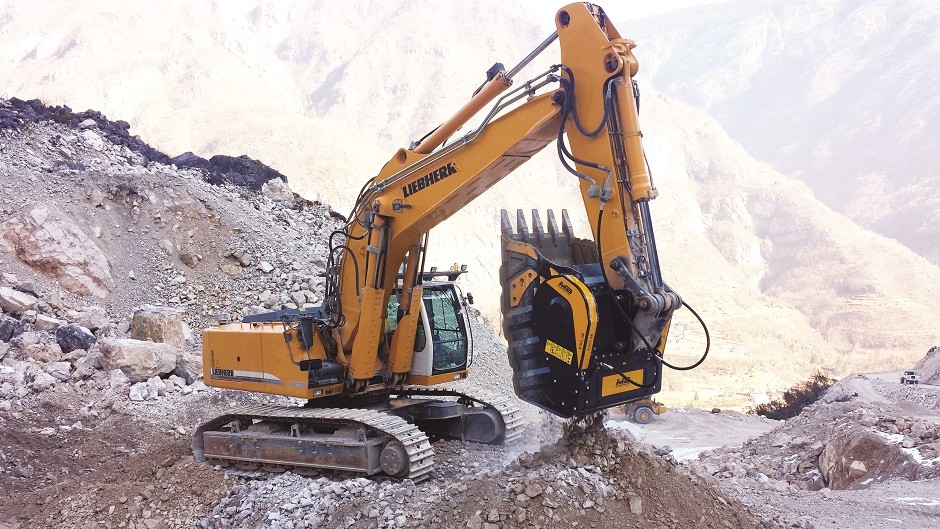 Only a little more than 11 years have passed since MB designed and launched its bucket crusher but it has been sufficient to make the market recognize the revolutionary usefulness linked to the capability of crushing directly on site. Today MB products are increasingly common and are often part of the standard equipment for operating in quarries, mines, demolition, earthmoving, digging, road works, building, environmental clean-up, and pipe laying and repair.
The largest MB crusher buckets models have been manufactured to satisfy the needs of operators in the quarry sector where the performance of hourly production yields over time are critical. MB's patented system helps achieve expected production targets and reduce costs linked to consumables.
The MB product range offers different types of crusher buckets which can be applied to all operating machines: the BF120.4 is particularly intended for quarry works, suited for excavators with a weight exceeding 28 tons and able to achieve a yield of 50 cubic metres/hour; the brand-new BF135.8, suited for excavators with a weight exceeding 43 tons, is able to achieve a yield of 75 cubic metres/hour; the BF150.10, the largest crusher bucket in the world, unique in its kind for size and performance, conceived for excavators with a weight exceeding 70 tons is able to guarantee a yield of 120 cubic metres/hour.
The bucket crusher operates with the excavators normally already available at every worksite. Even large companies, which in their own quarries already own large crushing installations, are increasingly choosing to equip themselves with MB bucket crushers, MB says. It is an added and complementary solution which allows operators to cover many particular situations and processes, such as working in tight spaces and difficult-to-access areas.