Cummins Clean Diesel Powering Toronto's Up Express
Tier 4 Final QSK19-R Powers Railcars That Will Remove The Equivalent Of More Than A Million Vehicles Annually From Roadways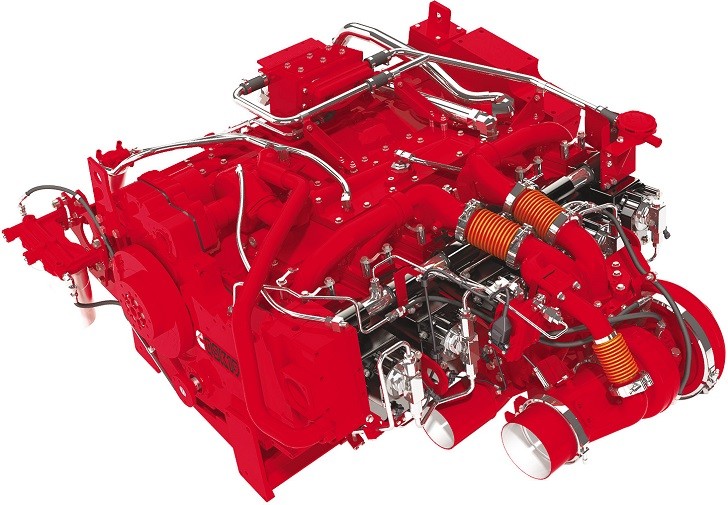 The Cummins Inc. QSK19-R has become the first Tier 4 Final-certified railcar engine in operation in North America with the launch of Toronto's UP Express on June 6.
An operating division of Metrolinx, the regional transportation agency, UP Express connects the Toronto Pearson International Airport to Union Station in downtown Toronto. Launched just in time to welcome visitors to the 2015 Pan Am and Parapan Am Games, the line connects two of Canada's busiest transportation hubs, and converts a time-consuming - and often expensive - commute on traffic-congested roads to a pleasant 25-minute trip via rail. When the service is fully implemented, the UP Express is expected to remove the equivalent of more than a million vehicles annually from roads in and around Canada's largest city.
Cummins and Nippon Sharyo partnered to bring 18 state-of-the-art diesel multiple unit (DMU) railcars to the UP Express service. The Cummins QSK19-R brings fast torque response, smooth power delivery and quiet operation all while meeting the most stringent emissions regulations in the world.
Designed specifically for the railcar market, the horizontal packaging of the QSK19-R makes it the engine of choice for DMUs around the world, with over 1,700 units currently operating regionally in Germany, the United Kingdom, Australia and China, among other countries. Rated at 760 hp (567 kW), it utilizes Cummins Selective Catalytic Reduction (SCR) aftertreatment system. Designed and manufactured by Cummins, the SCR system allows the optimization of engine combustion to improve fuel efficiency while meeting near-zero emissions levels.
While Toronto's UP Express is the first line to utilize Cummins ultra-low emissions technology, several other projects are in the works. The QSK19-R will power 14 Nippon Sharyo railcars destined for the Sonoma-Marin Area Rail Transit (SMART) system north of San Francisco, which will expand rail service between Santa Rosa and San Rafael, California.
Cummins QSK95, the highest-output 16-cylinder high-speed diesel in the industry at 4400 hp (3281 kW), paired with the Siemens Charger locomotive, will be used to power intercity projects in five of the United States. Additionally, the Siemens Charger powered by Cummins QSK95 will be used by All Aboard Florida, the only privately owned, operated and maintained passenger rail system in the United States, that will offer service from Miami and Fort Lauderdale to West Palm Beach.