Updated John Deere E-Series Articulated Dump Trucks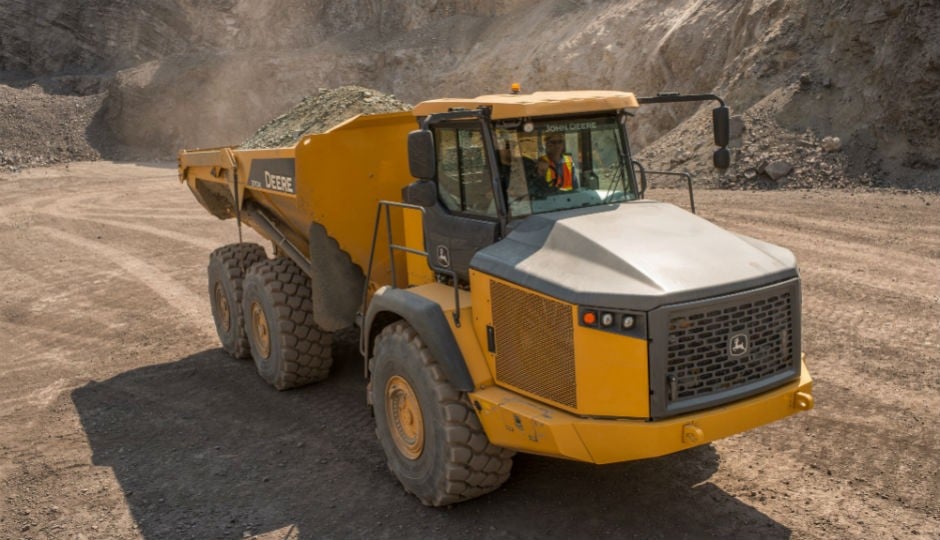 Bolstered with big updates, the new 370E, 410E and 460E articulated dump truck (ADTs) are designed for maximum effciency . The three models are highlighted by an EPA Final Tier 4 (FT4)/EU Stage IV John Deere PowerTech™ diesel engine and a pressurized Deere-designed cab – both of which combine to boost productivity and uptime, while minimizing daily operating costs.
"The new E-Series articulated dump trucks are the result of our most important asset, our customers," said Mark Shea, ADT product consultant, John Deere Construction & Forestry. "We worked with our customers to find out what they need in an articulated dump truck to make their jobs more safe, efficient, and productive. The E-Series is equipped with several features to accommodate these requests. Efficiency and productivity are boosted by standard best-in-class diff lock and powerful transmission retarder; while safety is paramount through ground-level daily service, auto horn, rollover protection and remote park-brake release."
Designed and built in Dubuque and Davenport, Iowa, the E-Series ADTs feature 422 hp (370E), 443 hp (410E) and 481 hp (460E), delivering impressive power and torque with exceptional power-to-weight ratios and fast cycles. A purpose-built ZF transmission includes eight forward gears and four reverse gears, and a high-capacity retarder to increase service brake life. In addition, the John Deere hauler axles are designed for heavy-duty applications and include on-the-fly differential locks and outboard planetaries, and each axle is independently pressure lubed and filtered. The E-Series axles use internal wet disc brakes that utilize independent cooling circuits.
Perhaps the biggest change to these new models is the updated cab. The ultra quiet, redesigned cab is sealed and pressurized to keep out dust and noise, affording enhanced operator concentration and efficiency. Creature comforts include push-button start, low-effort push-button controls, air-suspension heated high-back seat, tilt/telescoping steering wheel and optional premium radio with Bluetooth®, auxiliary input and satellite radio capability. Stairway lights can be turned on with the push of a button from ground level for easier visibility when entering the larger cab entryway.
The E-Series models are equipped with an updated 7-inch high-resolution LCD monitor for easy access to onboard diagnostics, digital gauges and vital system indicators — all conveniently located within arm's reach and view during rough haul conditions. Two ergonomically positioned sealed switch modules simplify operation and convenience controls. The auto shutdown feature turns off the engine after an owner-determined period of inactivity to reduce emissions, idle time and subsequent wear on the power train.
An integrated tire-pressure/temperature monitoring system comes standard to help maximize tire life and fuel efficiency. If pressure drops by 10 percent, a passive alarm appears on the monitor. In addition, further pressure decreases or overheating result in an audible warning and an email alert that is sent via JDLink™.
An optional, onboard weighing system is factory calibrated, which allows contractors to view the weight and the number of loads carried via JDLink. The system displays the payload on the monitor during loading while transmitting real-time load and tonnage data via JDLink, so productivity can be monitored from virtually anywhere. The onboard weighing option also comes equipped with mirror-mounted LED load indicator lights that illuminate for the loading operator as the truck approaches capacity (green flashing), is at capacity (green) or is 10 percent or more over capacity/overload (red flashing).