Komatsu America Corp. Launches New PC210LL-10 Log Loader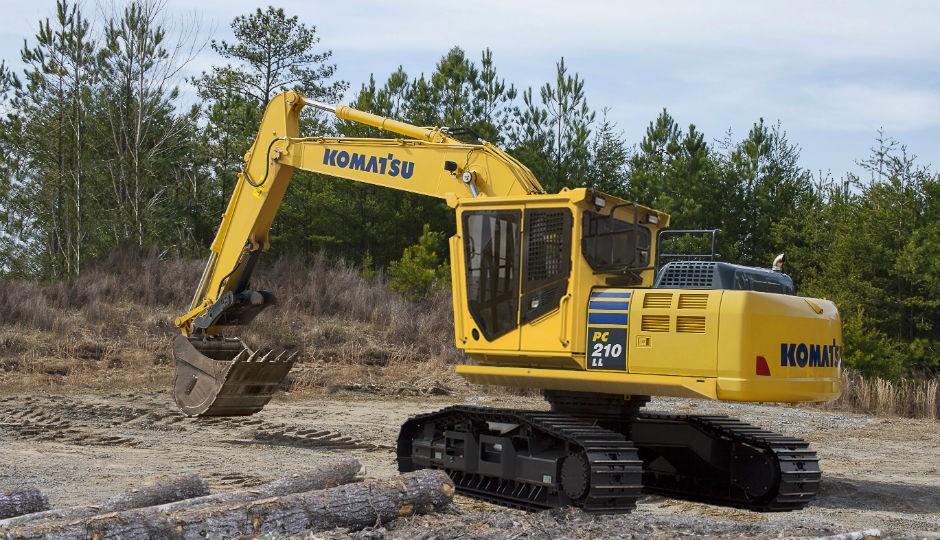 The Forest Machine Business Division of Komatsu America Corp. has introduced its PC210LL-10 Log Loader. Featuring a more environmentally friendly engine that increases horsepower by 7%, and lowers fuel consumption by 10%, the Komatsu engine in the PC210LL-10 is EPA Tier 4 Interim certified. Its power and fuel economy are a result of Komatsu's innovative leadership in engine design. The PC210LL-10 replaces the former Tier 3 PC200LL-8 model.
This newest addition to Komatsu's Dash-10 series of Log Loaders has a flywheel horsepower of 158 HP (118 kW) and weighs 65,118 pounds (29,537 kg) in Road Builder configuration. The PC210LL-10 is also available in Log Loader and Processor Head Carrier configurations.
The PC210LL-10 is equipped with the KOMTRAX 4.0 technology, which wirelessly sends machine operating information to a secure website. Data such as operating hours, location, cautions, fuel consumption and maintenance alerts are relayed for analysis. The KOMTRAX 4.0 fleet monitoring system increases machine availability, reduces the risk of machine theft (compared to machines that are not KOMTRAX-equipped), allows for remote diagnosis by the distributor, and provides a wealth of other information for business efficiency and productivity.
Special features of the new PC210LL-10 include:
EPA Tier 4 Interim Certified Engine
Built upon proven Tier 3 technology, the Komatsu SAA6D107E-2 engine has 7% more HP and provides up to 10% lower fuel consumption than the Tier 3 engine on the previous model. The Komatsu Tier 4 Interim engine uses an advanced electronic control system to manage air-flow rate, fuel injection, combustion parameters, and after-treatment functions to optimize performance, reduce emissions, and provide advanced diagnostic capability.
As a leader in hydraulic technology, Komatsu developed the hydraulically actuated Komatsu Variable Geometry Turbocharger (KVGT) and an Exhaust Gas Recirculation (EGR) valve for the PC210LL-10 that provides better precision in air management as well as longer component life. The Komatsu Diesel Particulate Filter (KDPF) has an integrated design that does not interfere with daily operation, updates the operator on its status and allows the operator to choose where and when to regenerate.
Highly Efficient Hydraulic System
Taking hydraulic efficiency to the next level, the integrated design uses a closed center-load hydraulic system with variable speed matching. Variable matching allows the engine speed to adjust based on the hydraulic pump output for both light and heavy-duty applications. The PC210LL-10 Log Loader configuration features adjustable flow controls for boom, arm, heel and grapple functions for fine tuning hydraulic response to individual operator preference. Additional enhancements have been made to reduce hydraulic loss, for better efficiency and lower fuel consumption. High-pressure hydraulic pump outlet screens are standard.
Upgraded Major Components
All major components on the new PC210LL-10, including the engine, hydraulic pumps, motors, and valves, are exclusively designed and produced by Komatsu. The loader uses a high carbody with reinforced front idlers, higher capacity recoil springs, ski-type full length track guiding guards, straddle-mounted carrier rollers, HD swivel guard and front/rear pull hooks.
The swing system and undercarriage components on the PC210LL-10 are from the next-size larger Komatsu excavators for work in demanding logging applications. The larger final drives and motors provide high drawbar pull for shovel-logging applications. Updated full-length support ski-type track roller guards help increase track life in tough logging conditions. The rear compartment covers on the PC210LL-10 are more than three times thicker than those used on comparably sized excavators, and the compartment doors also feature stronger door hinges.
Komatsu Forestry Cab
The new ROPS/OPS/FOPS/TOPS/FOG/WCB/Oregon OSHA certified Komatsu forestry cab (and more) provides a more comfortable and quiet work environment. The reinforced framework of the cab is specifically designed for tough forestry applications. The operator platform is mounted on viscous damper mounts for low vibration levels. The high-back, fully adjustable seat is air suspended and heated for enhanced comfort. The cab is available with a 48" (1220 mm) hydraulic tilt or a 7" (177 mm) fixed cab riser and has two 12-volt ports and an auxiliary input to connect external devices.
The cab has a new high-resolution 7" LCD color monitor with enhanced capabilities that displays information in 25 languages for global support. The operator can easily select from six working modes to match machine performance to the application. These working modes include Power Mode, Economy Mode, Lifting Mode, Breaker Mode, Attachment Economy Mode and Attachment Power Mode. The new monitor panel also provides Ecology Guidance (operational efficiency guidance), operational records, fuel consumption history, and utilization information. A standard rearview monitoring system, with the camera integrated into the counterweight, allows the operator to view directly behind the machine with the push of a button.