Major utility contractor selects Liebherr cranes for megaprojects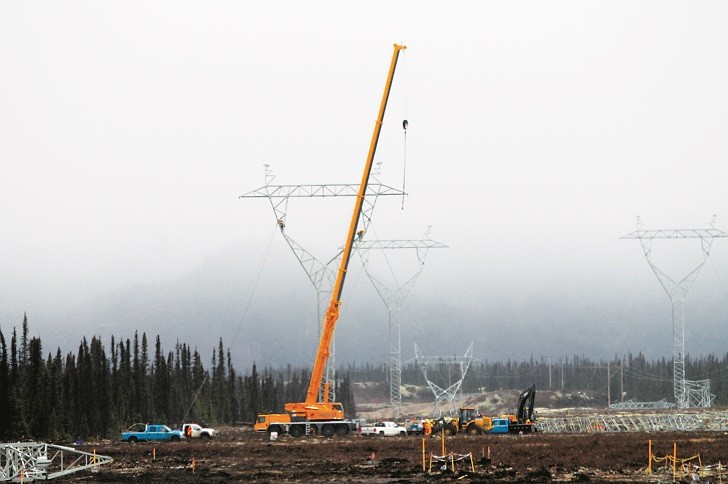 Valard Construction, one of Canada's largest utility contractors, counts on Liebherr cranes for megaprojects across Canada. For two major transmission projects in Newfoundland and Labrador, Valard is using a pair of new LTM 1130-5.1 Liebherr cranes, both equipped with cold weather kits.
Valard Construction LP, headquartered in Edmonton, is using the cranes to erect electrical transmission towers on the Muskrat Falls AC project. They are also installing two separate and parallel 315-kilovolt alternating current (AC) transmission lines, each 250 kilometres in length, for a total of 500 kilometres. The two transmission lines will connect Nalcor Energy's 824-megawatt (MW) Muskrat Falls hydroelectric generating facility, currently under construction, with an existing 5,428MW hydroelectric facility and electricity infrastructure in Churchill Falls.
Valard will also use the cranes to install transmission infrastructure for the massive Labrador-Island Transmission Link project. Approximately 1,100 kilometres of 350-kilovolt overhead high-voltage direct current (HVDC) transmission line running from the Muskrat Falls Hydroelectric Generating Facility in central Labrador to Newfoundland's Avalon Peninsula will be mounted by Valard. For the purpose of comparison, the distance between Montreal and Toronto is about 500 km, and Vancouver and Calgary is about 675 km. Due to tight schedules, weather fluctuations and long distances emphasis lies on reliable, high quality equipment such as the company's Liebherr mobile cranes.
The Liebherr LTM 1130-5.1 mobile crane is characterized by its long telescopic boom, strong lifting capacity, exceptional mobility and comprehensive comfort and safety equipment. It has a 60m telescopic boom and 14m telescopic boom extension, 19m folding fly jib, and weighs 60 tonnes, including a 9-tonne ballast.
It is powered by a six-cylinder Libehrr turbo-diesel engine rated at 350 kW (503 hp). The automatic 12-speed power shift system ZF-AS-TRONIC with intarder provides a high level of cost effectiveness and excellent comfort.
Thanks to its extremely compact design, the LTM 1130-5.1 can operate on the smallest construction sites. Five different steering modes make this easier: road steering, all-wheel steering (five wheels per side), crab steering, reduced swing out steering and independent rearaxle steering.
Along with tower assembly and erection, Valard's scope of work encompasses all other construction aspects of the project, including geomatic services, management of right-of-way clearing, access and reclamation, installation of concrete foundations and conductor stringing.