Liebherr R 960 demolition excavator features new demolition control system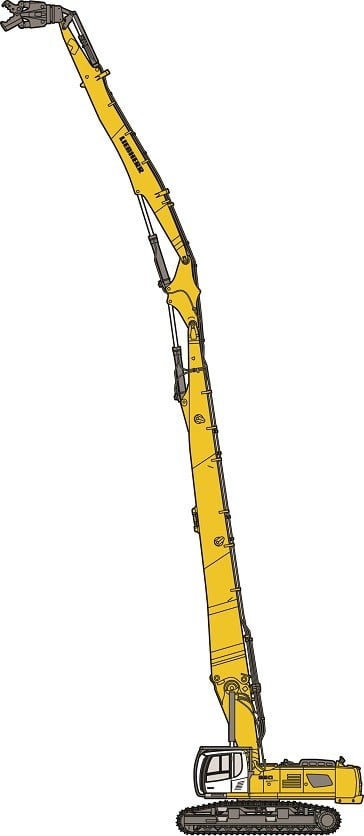 Liebherr's R 960 demolition excavator replaces the R 954 C demolition and is available in two versions: a 28-metre boom length and a 34-metre boom length. Operating weight is a maximum 93.5 tonnes. Its diesel engine complies with Tier 4 Final standards and returns 240 kW/326 hp.
Attachment tools with a weight of up to 3.5 tonnes can be used to achieve high breaking force.
The spacious new cab has an improved view and improved safety to offer the best working comfort and optimal productivity.
The new Liebherr Demolition Control (LDC) system is a standard feature in the R 960 demolition. The in-house development from Liebherr was awarded the silver Intermat innovation prize in January 2015 in the Engineering and Systems category.
The LDC is an active safety component that places information about the machine's tilt angle and tool position in the driver's field of view.
The system automatically triggers the electronic reach limiter when a critical level is reached. When at maximum reach, no tool movements are possible if the stability of the excavator could be threatened.
The LDC system is integrated into the electronics of the R 960. In addition to the angle sensors, the LDC automatically detects tool length to determine the position of the tool.
Tools are selected via a touchscreen and the weight information is already in the software. To optimize the performance of the excavator, an extended reach with rotation limiter was developed and integrated into the system. The greater reach opens up larger work areas and increases productivity.
The integration of the LDC system into the electronics of the demolition excavator renders specific components no longer necessary. This saves money and simplifies handling.