Merlo selected for large demolition projects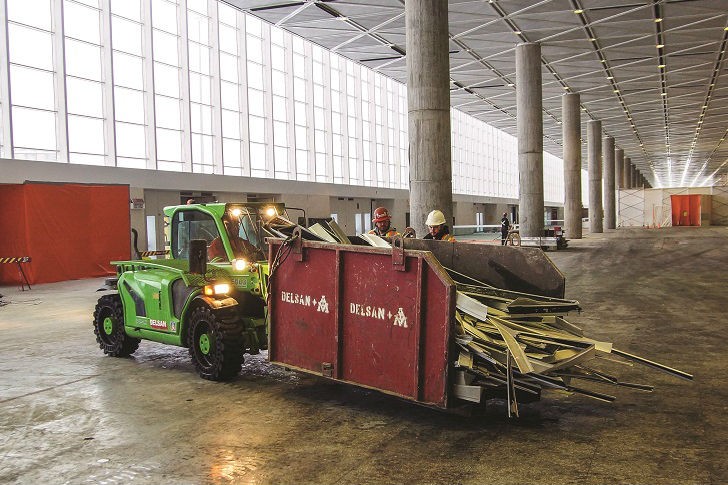 Delsan-AIM, regarded as a leader in demolition and decontamination work, has been using Merlo equipment for several years. Delsan-AIM is involved in many industrial, institutional, commercial, and governmental projects across Canada, most of which are valued at several million dollars.
On one of their jobs, north of Montreal, the decontamination phase will take several months. They are using their Merlo telehandlers to quickly remove debris and asbestos and to maintain a maximum pace for their 50 workers.
The company finds that using the Merlo telehandlers has increased overall production by 30 percent compared to other equipment, such as wheel loaders and skid steers. This results in substantial savings, both in time and labour.
The telehandlers have transformed asbestos removal by making it both faster and safer. With other lifting equipment, Delsan-AIM had to remove the asbestos and put it on the ground, then collect it with the mini-loader and dump it into the container. With Merlo telehandlers, the asbestos can be taken directly to the container upon removal from the structure, a process that is 40 percent faster.
Four Merlo machines are constantly at work on this project: two compact units, the P25.6 and P32.6, and two rotative models, the Roto 40.25 MCSS and Roto 45.21 Classic.
Compact models are fast in confined spaces and are being used to dump material into a container, eliminating a great deal of manual handling. The Roto models have a rotating turret which provides a greater working radius compared to a fixed telehandler. They replace a manlift for indoor demolition and are used to disassemble larger sections of walls or other parts of the building.
Delsan-AIM bought their Merlo telehandlers from the Canadian master distributor, Manulift (www.manulift. ca), who specializes in telehandlers and has the largest rental fleet in Canada, with over 400 units available.