RISING HIGH IN HALIFAX
A Nova Scotia massive mixed-use project is being built using an innovative self-climbing tower placing system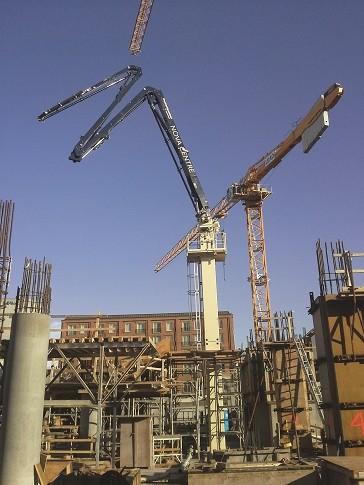 Nova Scotia has long been a centre for artistic and cultural excellence. The new Nova Centre, a world-class, mixed-use development being built on two complete city blocks at the heart of the Argyle entertainment and financial district in Halifax, will reflect the community's passion for culture. The project will comprise a financial centre, luxury hotel, residences, retail and entertainment amenities and a convention centre, parking and public space. The development will reach its maximum height of 200 feet (61 m) with the help of several pieces of Putzmeister equipment, including two innovative Putzmeister RS 850 Column Placing Systems.
With one million square feet (305,000 square metres) of mixed-use space, Nova Centre is the largest integrated development project undertaken in Nova Scotia's history. The anticipated LEED Goldcertified development's design was influenced by a public engagement process in which the proposed plans were shared with the community and the public was asked to share feedback and suggestions for improvement, ultimately resulting in the final plan.
Rank Inc., the project developer, selected EllisDon Corporation as the general contractor for Nova Centre, and began excavation work in Summer 2012. LEAD Structural Formwork Ltd. was chosen as the formwork company and Quebec Citybased Pumpaction, Inc. was selected to provide the concrete pumping solutions and equipment for the project. The concrete supplier, Halifax-based Quality Concrete Limited, also provided a Putzmeister BSF 43Z.16 and a Putzmeister BSF 20Z.09.
In total, the Putzmeister equipment will pump approximately 48,000 cubic yards (44,000 cubic metres) of concrete for the Nova Centre project.
To place concrete for the foundation work, a Putzmeister BSF 43Z.16 and a Putzmeister BSF 20Z.09 were used. Traditionally, in Halifax, truck-mounted concrete boom pumps are used for the entirety of projects like this. However, this particular job required a different solution due to its height and poor access at the site. Since the building is being constructed directly in downtown Halifax, the space required to set up a truck-mounted concrete pump was limited. Additionally, lane closures were not a possibility. Thus, once the building was up to street level, the team at Pumpaction proposed a different solution – one that downtown Halifax had not seen on past projects.
Self-climbing system
To build vertically on the project, Pumpaction proposed a concrete placing system consisting of a Putzmeister MX 34/38Z Placing Boom with a horizontal reach of 110 feet (34 m). The placing boom is mounted on top of a Putzmeister RS 850 Column Placing System, which features 54 feet (16.5 m) of tubular column. A Putzmeister ZX125 pipe system is being used to connect the placing boom and the Putzmeister BSA 2109 H-D Trailer- Mounted Concrete Pump located at ground level. Two RS 850 column systems are installed at different locations on site with one placing boom being moved by a tower crane from one column system to another, depending on concreting needs.
"We decided to utilize the Putzmeister ZX125 pipe system because the pressure could reach up to 1,885 psi (130 bar) on the piston side," explained Keith Armishaw, sales representative for Pumpaction. "We knew it could stand up to that pressure without any complications since the system uses a male/female connection that is 100 percent leak proof."
Column Placing System
Putzmeister's new RS 850 Column Placing System was selected due to its innovative, hydraulic self-climbing system. As the floors are built, the complete column assembly is lifted through the floors below to raise the placing boom above the formwork. The entire structure, including delivery pipe line and ladder system, can be lifted in less than an hour through a small floor opening of three feet by three feet (1 m x 1 m) without the use of a tower crane. "One of the biggest advantages of using a placing boom system – a self-climbing one in particular – is that it reduces crane time to a minimum during the concrete placement sequence, freeing up the crane for formwork and rebar," explained Armishaw. "Additionally, it frees up space on the ground where truck-mounted boom pumps would normally be parked."
"The self-climbing towers have been working superbly," added Brad Gregus, senior superintendent for EllisDon. "It only takes an hour to move the boom from one tower to the other. It's the most efficient, time saving piece of equipment on site."
The team also utilized the RS 850 floor support plates for this project. They set up the column system between two floors with a minimum height of 10 feet (3 m) between the floors. The floor plates kept the bottom section of the RS 850 columns in place, and then the column was wedged at the upper floor.
While the placing system is essential for rising up to the maximum height of the project, the concrete pump is equally important in terms of delivery. For this application, a Putzmeister BSA 2109 H-D Trailer-Mounted Concrete Pump with a 268-hp (200 kW) diesel engine was selected. It offers a maximum output of 103 cubic yards/hour (95 cubic metres/ hour) and maximum concrete pressure of 1,320 psi (90 bars).
"The pump has been working extremely well and has never given us a minute of trouble," said Gregus. "It's powerful, and yet quieter than any pump I've used before. It's beautiful piece of equipment."
Since two placing system columns are being used on the project, a Putzmeister DVH 5/2 Hydraulic Diversion Valve that is hydraulically powered by the trailer pump is being used to switch between the two, depending upon where concrete is being delivered at a given time.
When the Nova Centre project wraps up in late 2015, Halifax residents will have an innovative mixed-use development that revitalizes the heart of Atlantic Canada's hub city. The developers hope it will be a reflection of and catalyst for economic growth, job creation, tax revenue, tourism, entertainment and people attraction.