Contractor's switch to 3D paving saves time and money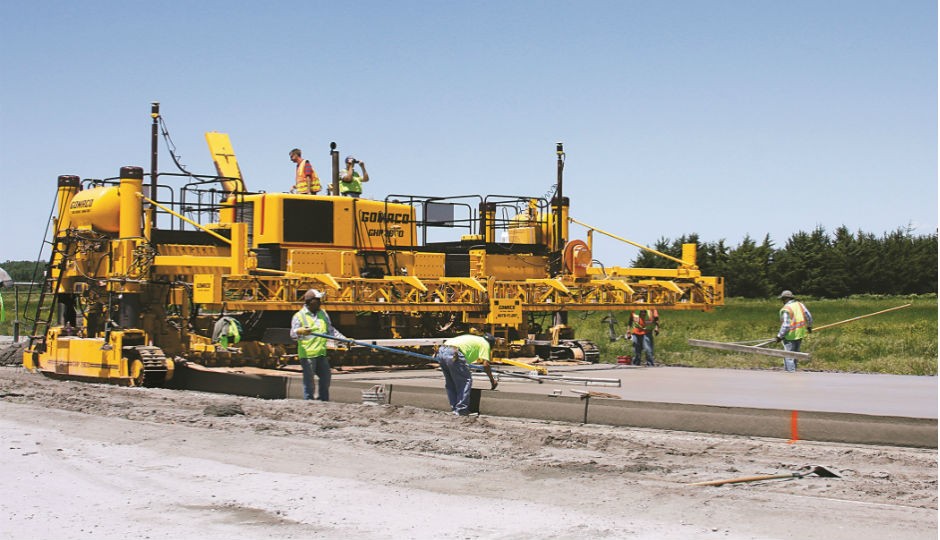 Gehring Construction Company was founded in 1949 by Walter Gehring as a construction company specializing in residential concrete flatwork. They branched out to the readymix supply business in the early 1970s.
They bought their first cylinder finisher from GOMACO in 1973 and started a relationship between the two family-owned companies that has lasted over four decades. As concrete paving technology has changed, Gehring has adapted and changed with it. Their most recent purchase has moved them into 3D stringless paving with Topcon's Millimeter GPS paver system.
"We've been using Topcon GPS systems, the 3D-MC, on all of our dirt work equipment for the last few years," Kevin Gehring, paving superintendent for Gehring Construction, said. "Because of that, we already had a surface model of this project and we already had control points, so we started looking at the Topcon paver system.
"We went to World of Concrete in Las Vegas and saw first hand exactly what we were talking about doing with the millimetre GPS receivers and the transmitters. It just seemed like it would be a good fit and hopefully cut down on some of the problems that you typically see with stringline. We think it will save us time and money, and also maintain the product or maybe even make it better with those lasers."
Testing the system
They put their Topcon system to the test on a bypass road around the city of Columbus, slipforming a 1.5-mile (2.4 km), four-lane section of the project. Gehring prepared the grade for the bypass with their GOMACO 9500 trimmer using the 3D system. Then, they brought in their GOMACO paving train, which included a 9500 concrete placer, a two-track GHP- 2800 slipform paver, and a T/C-600 texture/cure machine. The Topcon components used for trimming were outfitted on the paver.
"In addition to the added speed and accuracy, another advantage of going with Topcon mmGPS was the fact that both the trimmer and the paver essentially share one single system," Gehring said. "Once both machines are set up, we can use the system on the trimmer, trim the subgrade to tolerances within 1/100 of a foot, and then move it over to the paver. There, after about a five-minute switchover, we can work off the same 3D model, set the offset to reflect the thickness of the pavement and get equally impressive results on the paving."
The concrete for the new bypass was batched from two Gehring Ready-Mix plants, both within approximately two miles (3.2 km) of the paving site. The concrete was a mix design with slump averaging around 1.5 inches (38 mm). Twenty ready-mix trucks supplied concrete to the paver. At the paving site the trucks, mostly two at one time, emptied their 11 cubic yard (8.4 cubic metres) loads into the 9500's hopper in approximately 2.5 minutes. The 9500's 34.7-foot (10.6 m) long belt placed the concrete onto the grade and over dowel baskets set on grade at 16.5-foot (5 m) intervals.
Gehring's GHP-2800 paver slipformed the new bypass in two 28-foot (8.5 m) wide paving passes. The roadway is 10 inches (254 mm) thick with a four inch (102 mm) integral roll curb on one side of the paving. A front-mounted centre bar inserter inserts tie bars every 33 inches (838 mm) for the longitudinal joint.
"We have an engineer come on the job site and give us some control points with a known elevation and a northing and an easting," Gehring explained. "Then I'll come in, set up my GPS base station and tie into their control points, make a control file, add that to my surface design, and then I know our elevations will match up with their print. We don't have to have the job staked out. We have some survey points where we set up the millimetre transmitters, but that's every 200 feet (61 m). When we set paving hubs, we'd normally have them set every 50 feet (15.2 m) on a straight and 25 feet (7.6 m) on a curve, so we've saved a lot of hubs.
"Our alignment runs off GPS coordinates and the millimetre laser transmitters are getting the tolerances we need to pave. We have two of the Topcon millimetre laser transmitters on the job site, but the machine is only using one at a time. It will control both receivers on the paver and the grade check rover. In fact, just like any laser, it will control any amount of equipment within range. We have our hubs 200 feet (61 m) apart, but because they're so close to the slab and the paver we are going past the next hub 100 feet (30.5 m) before switching, so really we're getting 300 feet (91.4 m) out of each transmitter. That seems to be about the maximum for concrete. Trimming is a little different story and I don't think it would be uncommon to get 500 feet (152.4 m) out of a transmitter on a trimmer."
Switch to 3D relatively easy
Gehring's switch from stringline to 3D paving has been a relatively easy one with just a few pointers learned along the way. Personnel from GOMACO's 3D team and Topcon were on hand to help with training and offer tips and suggestions.
"There's been a few things we needed to learn, all right," Gehring said. "You have to make sure where you set up your millimetre transmitter is on a surveyed point so those points need to have good elevations. That way, when you switch to the next one, you don't see any elevation difference.
"We've also learned there are some common factors that can create issues, like wind especially. Through Topcon's recommendation, we learned to sandbag the tripod and that helped to stabilize them and get all the vibration out of those laser transmitters. But as far as the GPS itself, we haven't had any problems. Occasionally, there are certain times of day when you might have fewer satellites and it will have to initialize, but that's usually just for 30 seconds at the most. The GPS part of it has been great."
Paving production on the project averaged approximately 2,500 feet (762 m) per day. Behind the paver, a GOMACO T/C-600 texture/cure machine applied a two-pass, white spray, cure finish and longitudinal tine. With no stringline on the project, a new method of control had to be developed for the texture/cure machine.
"That's another thing we had to get new since there's no stringline to go off anymore," Gehring explained. "GOMACO came up with sonic sensors and they've worked perfectly. Steering is referenced off one edge of the slab and grade is referenced on both sides. The sonic sensors bounce the sound beam right off the existing slab and the T/C machine has been following it just fine. It's a pretty simple system."
Gehring Construction started in 3D paving with the hope the system would save them time and money on their projects.
It was certainly true with their first project. "In the three months we were on that job, mmGPS probably helped us knock a couple of weeks off the overall project length," Gehring added. "There is some savings in not having to go back and correct for high or low spots. However, the real impact comes from not having to stake the job or put up stringline, and the fact all of our Topcon-equipped machines are working off the same base and surface model also improves efficiency and lowers paving costs. It's been working out really well for us."
Related Articles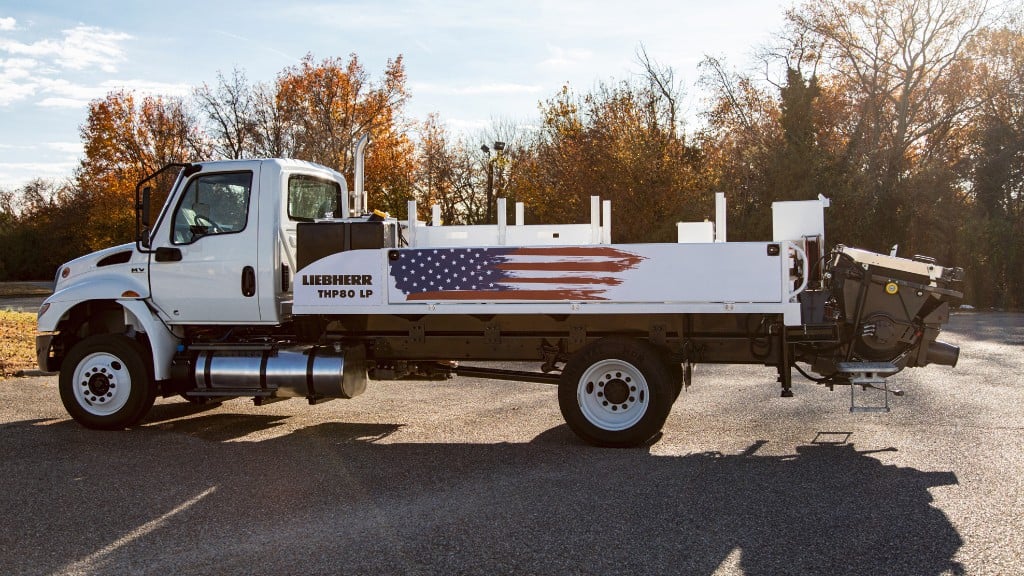 Small and versatile Liebherr truck mounted concrete city pump showcased at World of Concrete