APT offers full range of light compaction equipment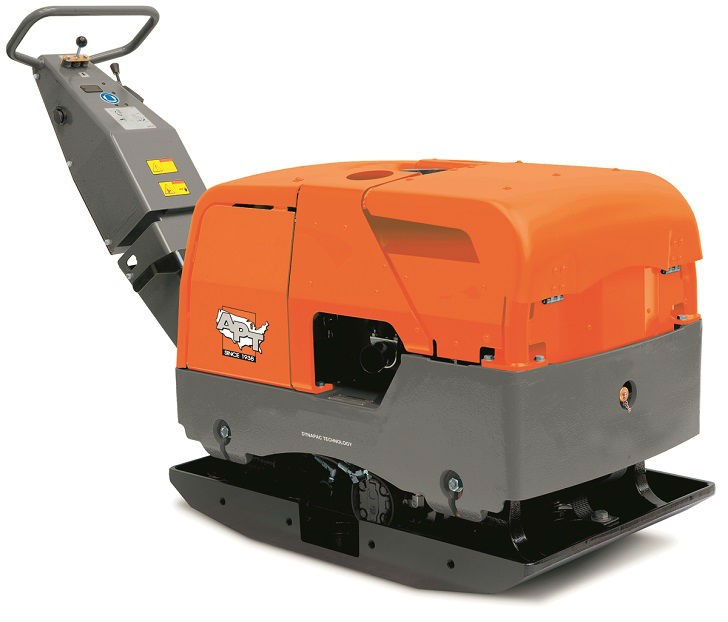 Forward plate compactors: APT forward soil plates for compacting granular soils range in operating weight between 128 pounds and 208 pounds. Ideal for small repair and maintenance work, applications include asphalt, gravel, sand and silt. They are powered by Honda engines, and feature specially shaped bottom plates, stowable vibration-reduced handles for reduced operator fatigue, and wheels for easy mobility. The forward plate compactors also feature a removable 3.4-gallon water tank and smart water distribution system for reliable performance.
Reversible plate compactors: ideal for compacting medium to deep layers of granular soils, APT reversible plate compactors range in operating weight between 355 pounds and 1,720 pounds, and offer a high-speed, balanced design with a hydraulic control system for easy, precision handling. A hydraulic forward/ reverse lever, a heavy-duty protection frame and impact-resistant steel covers come standard. Models RP160 to RP400 feature gas-powered Honda engines, while Hatz Diesel engines power the RP500 and RP700 models.
Rammers: ranging in operating weight between 146 pounds and 187 pounds, APT rammers are ideal for repair jobs, trenches and foundation work. Featuring a multi-functional fuel tank with a breather shut-off, electrical shutoff and throttle control with three fixed positions (stop/idle/run), APT rammers are built with a robust steel frame and efficient shock absorbers.
Walk-behind trench roller: the APT WR85-33 trench compactor is suitable for back-fills, foundations, parking lots and similar applications. With an operating weight of 3,695 pounds and an 18-inch drum width, this Bluetooth radio-controlled, walk-behind trench roller comes standard with a Hatz diesel engine and is equipped with a manually controlled emergency system, which includes an emergency push-stop bar and a safety push-stop button.