Wacker Neuson's new line of heavy-duty, automatic self-priming trash pumps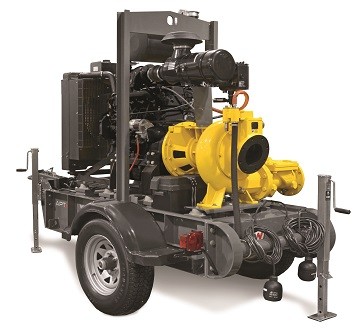 The APT series trash pumps from Wacker Neuson are heavy-duty automatic self-priming trash pumps designed for high flow efficiency and superior solids handling. Offered in four-inch, six-inch and eight-inch models, these pumps are ideal for contractors, pump rental companies, general industrial and municipal use.
The outstanding feature of these APT pumps is the Venturi/compressor assist priming system that primes and reprimes the pump automatically. Since there is no need for manual priming, they are built for unattended operation. The oil-filled bearing and oil-bathed mechanical seal design provides indefinite run-dry capability making it the perfect choice for inconsistent flow applications.
The APT 4 four-inch model can pump up to 1,300 gpm and handle solids up to two inches. It is powered by a 40-hp, water-cooled Yanmar diesel engine. The most popular model the APT 6. This six-inch pump can pump up to 2,100 gpm and handle three-inch solids. It is powered by a 74-hp liquid-cooled John Deere diesel engine. The eight-inch, APT 8 is the largest unit and is capable of pumping up to 3,500 gpm and handles solids up to 3.125 inches. This unit is equipped with a 99-hp John Deere diesel engine.
All of Wacker Neuson's new APT trash pumps are available in either a skid or trailer mount. The standard control panel is telematics plug-n-play ready and includes a float switch, on/off ready engine controller and standard automatic shutdowns for low oil pressure, high coolant temperature and overspeed. Key engine data is reviewable at a glance.
The high grade cast ductile iron pump housing, wear plate and corrosion resistant impeller construction make these pumps rental and jobsite tough.