OTR tires for hard rock environments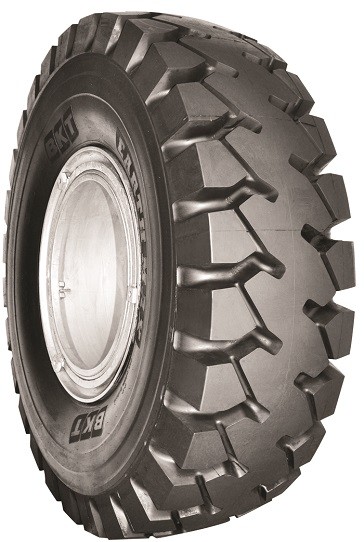 BKT recently launched the Earthmax SR47 OTR tire for the global construction market, specially designed for haul truck applications in hard rock environments. The SR47 provides efficiency and longer-lasting performance in harsh operating conditions on hard rock sites.
The geometrical lug pattern of the SR47 has been specifically designed to improve impact and cut resistance, traction capability and ride comfort needed for trucks operating in tough, demanding conditions.
Earthmax SR47 tires are available in sizes 1800R33 2 Star and 2400R35 Star for 35- to 65-metric-ton haul trucks. The all-steel radial tires are made with multi-ply steel belts which help protect the casing against punctures and rock cuts. These features improve truck handling and traction.
The Earthmax SR47 tires have an extra deep tread, classified E4 which is 50 percent more than standard. This results in longer tire life.
The Earthmax SR47 tire is produced with top quality BKT tread compounds, and is available in standard, heat and cut resistant versions. The cut resistant compound is ideally suited for applications in very rough terrain where severe rock cutting is present. The standard compound is suitable in mixed applications requiring a well-balanced performance. The heat resistant compound offers less heat generation to maximize tire performance on long fast hauls.
With over 2,300 SKUs in its product line, India-based BKT says they can be considered a one-stop shop for off-highway tires. In Canada, BKT's wholly owned subsidiary is BKT Tires Canada Inc. in Edmonton.