Versatile Vögele Screeds For 10-, 8-ft. Vision Pavers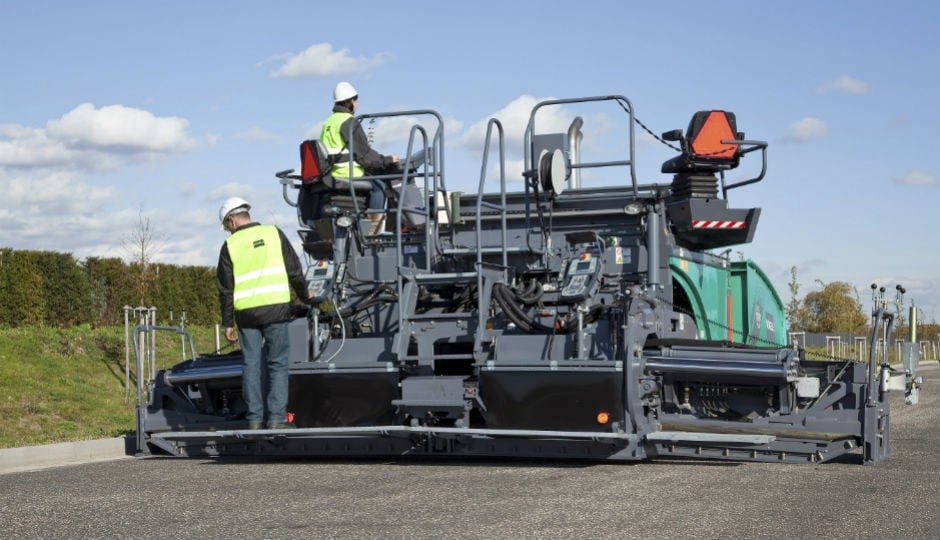 Versatile front- and rear-mount screeds for 10-ft. and 8-ft. Vögele Vision pavers provide high productivity for asphalt contractors. Designed specifically for the line of Vögele Vision pavers, the front-mount VF 600 and rear-mount VR 600 screeds are utilized with the new 10-ft. Vision 5200-2i tracked paver, and the 10-ft. Vision 5203-2i wheeled paver.
The unequal-width, front-mount VF 500 screed is utilized with the 8-ft. Vision 5100-2 tracked paver, and 8-ft. Vision 5103-2 wheeled paver.
Front- and rear-mount refers not to how the screed is mounted on the paver, but on how the extensions are configured. With a front-mount screed, the extensions are located in front of the basic screed, and with rear-mount, the extensions are located behind the basic screed.
The front-mount Vögele VF 600 extending screed is equipped with vibration across the full paving width, up to 25 ft., 6 in. Its basic width is 10 ft., and it can be extended hydraulically up to 19 ft., 6 in. With bolt-on extensions fitted, it builds up to the maximum width of 25 ft., 6 in.
Equipped with Vögele's robust and smooth guide system, the VF 600 extending screed builds road pavements of highest quality and superb evenness. Its compact design allows for great visibility to all areas. The VF 600 is the ideal tool for multivariable applications like parking lots with islands and light poles, residential and city streets with storm sewers, gas and water mains, intersections and applications with multiple obstructions. The VF 600 also has the rigidity and weight to maximize smoothness on major highway and airport projects.
Extension and retraction of the screed is extremely smooth for optimum performance. The screed is controlled easily and intuitively through Vögele's ErgoPlus operating system, via two fixed consoles on the main screed and two remote control units. Electric heat is provided through an innovative control system.
The VF 600 screed is capable of many screed profiles with crown, sloping extensions and berm (each independently operated). Berm widths are available in 12 in., 18 in. and 24 in.
The rear-mount VR 600 extending screed for 10-ft. pavers builds road pavements of highest quality and superb evenness. The rear-mounted Vögele screed is the ideal tool for paving in widths between 10 and 28 ft.
Large dimensioned, sturdy telescoping tubes featuring high-precision operation. They provide for excellent stability of the screed, ensuring great paving results. Telescoping tubes are located in a high position avoiding any contact with the mix. Even with the screed set to its maximum width, the telescoping tubes are extended by no more than half for zero flexing. Deep screed plate design provides excellent floatation.
As with every extending screed from Vögele, the VF 500 for 8-ft. Vision pavers also have a particularly robust guide system. Thanks to their sturdy design, they feature excellent stability, even if the paving width varies continually.
The strategic design of the VF Series main frame is an important element in this context. Its high rigidity prevents the screed from flexing, while permitting a controlled torsion of the screed as required for certain paving tasks. Yet stable guidance of the extensions is always guaranteed, despite this permitted torsion. As the guide system is mounted on the VF Series screeds at an outward position, the torsion of the main frame is never transferred to this guide system.
A valuable practice-related feature of the innovative VF and VR series screeds is the ability to move the extensions in or out at different speeds, as required. Pressing the button on the operator's ErgoPlus console briefly permits particularly precise control, for example, along an edge. The button must be pressed and held for more rapid extension or retraction. As a result, screed width control is performed with highest precision to obtain an absolutely straight pavement edge.