TADANO Breaking New Ground with an 8-axle Without a Boom Suspension System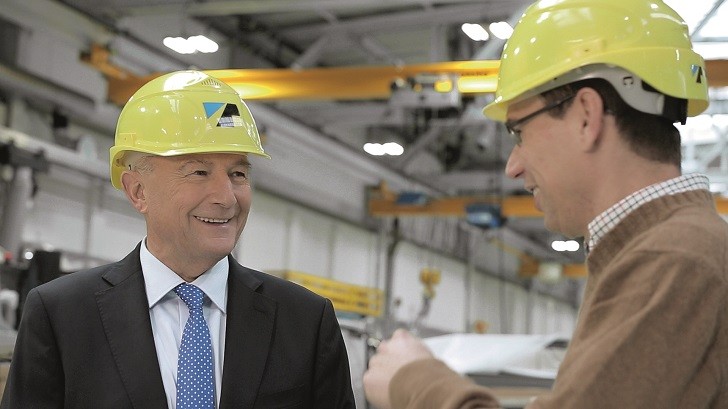 A new, large All-Terrain crane with the revolutionary Triple-Boom System embodies the transformative process that TADANO is continuing in 2015. The new 8-axle in proven TADANO quality is the first large All-Terrain crane without a boom suspension system.
Reliability through avoidance of highly complex technologies – this is how Project Manager Andreas Hoffmann describes the approach for the development of the new Triple-Boom System. Conventional boom suspensions have always been complex and expensive in logistics, rigging, and operation. This is why Andreas Hofmann and his development team made a concerted effort to change their perspective and think outside the box. This was a challenge for him and his engineers that kept everyone thinking, even during off hours. Finally, the concept was clear: In order to relieve the customers of the disadvantages of a traditional boom suspension system, there was only one answer: discard it completely. The result is called the Triple-Boom System, a completely new kind of telescoping boom that requires no boom suspension system because of its very high stiffness.
This novel idea garnered immediate support from "upstairs," as Alexander Knecht, chairman of the board, emphasizes: "The first time I imagined the Triple-Boom System – could really envision it – I thought 'This could be a revolutionary boom system.'" And as far as product strategy is concerned, the large 8-axle crane was the logical sequel to the successful launch of the 400-ton crane three years ago. TADANO wanted to offer a complete product range. That the new large crane also represents a world-class innovation is an extremely strong argument for TADANO.
Thomas Schramm, general manager of sales and marketing, sees enormous competitive advantage for crane renters in the new 8-axle. The development of the novel boom suspension system is, first and foremost, proof of TADANO's ability to listen, as customers frequently attest. "Elimination of additional transport for the boom suspension system, increased rental times due to time saved in rigging, as well as a significantly smaller tail swing radius for use in tight construction sites all contribute to the efficiency of this new crane." The two-engine concept that is so highly valued – and demanded – by the customer base is also a contributing factor for more economy.
As sales director, Thomas Schramm understands the quality his customers require. He puts it this way: "The crane that is always available and reliably does its job is the highest-quality crane." To guarantee this, TADANO continues to adhere to the principle of uncomplicated user-friendly technology. All the proven features of TADANO models will be available in the new 8-axle with the Triple-Boom System. The same goes for all the other product developments and improvements that TADANO will introduce in 2015 as part of their continuing transformation process.