Two New Doosan Wheel Loaders Provide A Range of New Efficiencies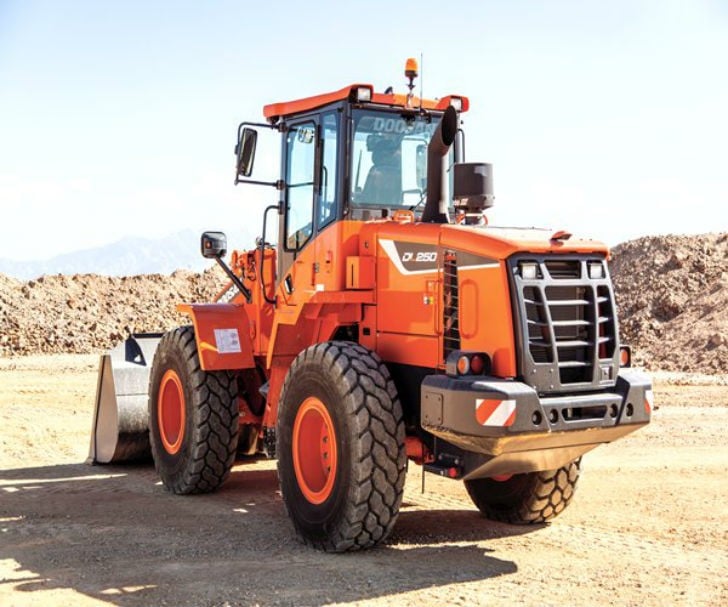 The Doosan DL250-5 and DL250TC-5 (tool carrier) wheel loaders offer improvements in fuel efficiency, operator comfort, serviceability, reliability and remote monitoring with Doosan Telematics. These models will replace the "dash-3" (interim Tier 4) models with a Tier 4-compliant Doosan DL06 diesel engine. Customers wanting a wheel loader in this size class can choose between a Z-bar loader linkage for the DL250-5, and a parallel lift-arm design for the DL250TC-5. The Z-bar loader linkage is ideal for digging, heavy lifting and general construction tasks. The parallel lift-arm design helps keep items level while the wheel loader is moving.
Wheel loaders work in tough operating conditions where they need to scoop, lift, carry and dump materials. Limited-slip differentials help with these tasks and are standard for both Doosan models. With this feature, the machines have more traction when excavating, grading or loading trucks. To maneuver in tough terrain, the limited-slip differential allows the wheel with the most traction to receive the proper torque, providing superior tractive effort.
Doosan added an auto-shutdown system to its wheel loaders to help owners save valuable fuel during non-working conditions. Operators can configure the idle time before auto shutdown from 3 to 60 minutes. When enabled, the feature will shut down the wheel loader's engine when the preset idle time is met.
For applications in mining and infrastructure market segments, Doosan offers a high-lift configuration for the DL250-5, providing additional dump height. Added dump height is particularly useful for operators who regularly load trucks and need additional lift height to efficiently dump material into the truck. The optional high-lift configuration provides an additional 18 inches of dump height.
Versatility is important to wheel loader owners when they're working on a jobsite, especially when they want to change attachments quickly. The DL250TC-5 has an optional quick coupler to easily change attachments, including buckets (general purpose, light material or multi-purpose) and pallet forks.
The Doosan DL250-5 and DL250TC-5 comply with Tier 4 emission standards with modified diesel engines and aftertreatment technologies. The engine is optimized for use with a high-pressure common-rail (HPCR) fuel delivery system and a cooled exhaust gas recirculation (CEGR) system. It utilizes a diesel oxidation catalyst (DOC) to reduce particulate matter (PM) and selective catalyst reduction (SCR) aftertreatment to reduce nitrogen oxides (NOx). Additionally, a variety of aftertreatment systems have been implemented as part of the Tier 4 compliance, such as diesel exhaust fluid (DEF), which is used with SCR technology.