Terex Cranes Shines Spotlight on Two of Its Latest Innovations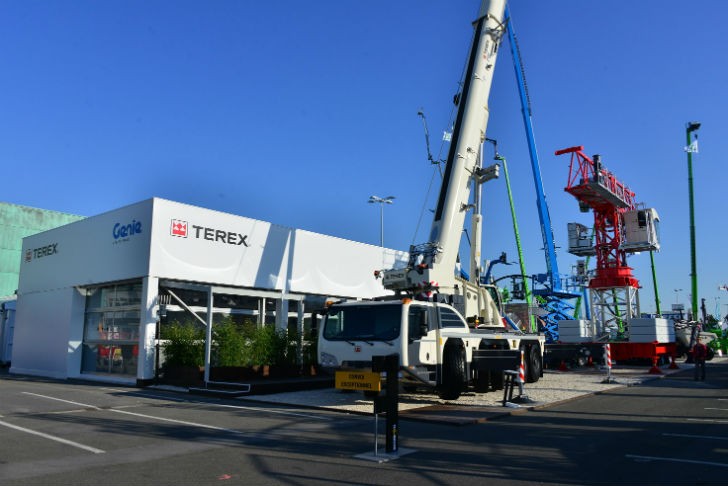 Contributing to the Terex theme of innovation at INTERMAT 2015, Terex Cranes was set to feature two of its latest lifting equipment innovations. The Terex Explorer 5600 all terrain crane features a new capacity calculating system, while the newly redesigned Terex CTT 182-8 flat top tower crane boasts inventive design updates that deliver high productivity at the jobsite.
Terex Explorer 5600 all terrain crane
The Terex Explorer 5600 all terrain crane features a new capacity calculating system which significantly boosts lift capacities especially over the outriggers, compared to 360-degree lifting capacities. Load charts are calculated for every boom position, subject to slewing angle of the superstructure, which may increase capacities up to more than 200% when operating over the outriggers. The new capacity calculation system allows the crane operator to position outriggers independently and asymmetrically, it also features an enhanced visualization to easily provide the crane operator with additional information on capacity in relation to the boom position.
Companies now have greater flexibility, allowing the same type of lifts to be accomplished with less counterweight to save on transport costs. The system detects the amount of counterweight on the crane body and automatically slows and eventually stops slewing movements when the boom moves beyond the designed lifting area, providing safe operation.
First launched at CONEXPO-CON/AGG 2014 and now making its mark worldwide, the Explorer 5600 all terrain crane offers a total length of just 14.3m (46.0 ft) and a carrier width of only 2.75m (9.0 ft), making it the most compact crane in its capacity class which makes for excellent maneuverability. The all terrain crane's unique single-engine concept enhances performance of both road travel and lifting, while lowering operating costs through low fuel consumption and reduced maintenance. The Explorer 5600 crane offers many features to increase its roadability, including an axle load of less than 9.1/12/16.5t (10/13.2/18.2 U.S. tons) per axle with 2,440mm (8-ft) space between axles and a maximum of 1.4m (4.6-ft) front overhang.
Terex CTT 182-8 flat top tower crane
With its maximum capacity of 8t (8.8 U.S. tons), the new Terex CTT 182-8 flat top tower crane delivers over 5% increase in lift capacity at its maximum 65m (213.3-ft) jib length when compared to the previous model. Improvements to the winch mechanism elevates maximum hoist speeds by up to 31% for faster lift cycles, while an AC engine with inverter provides improved maneuverability and higher lifting precision. New electrical box positioning and grouping of internal electrical components simplifies maintenance and offers increased reliability in all weather conditions without the need for low-temperature equipment.
Designed for use in a variety of applications from residential buildings to major infrastructure projects, the new CTT 182-8 flat top tower crane offers a load moment of 180mt. Its main jib can be configured with a variety of lengths from 35 to 65m (115 to 213 ft), in 5m (16.4-ft) increments, and offers a 2t (2.2-U.S.-ton) capacity at its maximum jib length. Available in a variety of heights and combinations to meet jobsite demands, the CTT 182-8 crane offers a maximum free-standing height of 67.2m (220 ft). Other advantages include the modular design of its jib, common counter-jib ballast, and fast and easy transport and set-up.