Komatsu Launches HB215LC-2 Third Generation Hybrid Excavator at Intermat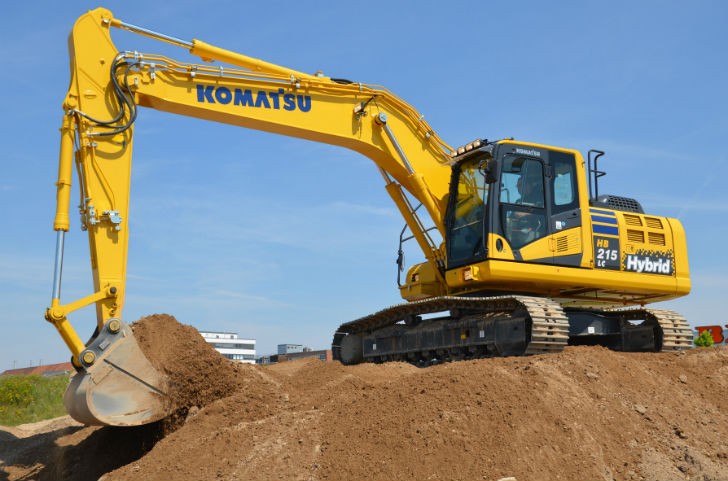 Komatsu has announced the introduction of the new HB215LC-2 hybrid hydraulic excavator to the European market. It is a "third generation" hybrid model, with an increased operating weight of 22.550 kg and a bucket capacity of 1,68 m³.
Based on iterations of Komatsu's hybrid experience, the HB215LC-2 is the result of years of Komatsu research and development that illustrates the company's commitment to quality, reliability and environmental stewardship.
Since 2008, when Komatsu were the first in the industry to commercialize this hybrid construction equipment, over 2.500 Komatsu excavators were bought worldwide.
"Customer satisfaction is the rule" says Jim Venerus, Deputy General Manager for European Product Marketing at Komatsu Europe. "Komatsu's unique hybrid technology is widely recognized as reliable and efficient by owners and operators, in Europe and all over the world. The KOMTRAX monitoring system, standard on Komatsu models, shows that our customers are saving, on average, 25% fuel with their Komatsu hybrid machine, along with a significant reduction of CO2 emissions."
Today, Komatsu continue to strengthen their leadership as innovators in the construction equipment market, and deliver an excavator with enhanced hybrid components and a new Komatsu EU Stage IIIB engine. As all Komatsu excavators, this hybrid machine has a high lift capacity and great stability, and its swing performance is fast and powerful. And by refining their hybrid technology, Komatsu has further improved fuel efficiency on the HB215LC-2.
Yoshihiro Kobayashi, Product Manager for hybrid excavators at Komatsu Europe, confirms: "The new HB215LC-2 will now provide Komatsu customers with an even higher fuel economy. Actual savings will depend on the application, and fuel efficiency is particularly high when operating the excavator with hydraulic attachments. We estimate that the extra investment into a Komatsu hybrid machine can typically be recovered in two years or less."
The HB215LC-2 is supported by Komatsu CARE, a complimentary maintenance program for Komatsu customers that comes as standard with most new Komatsu EU Stage IIIB construction machines. For the first three years or 2.000 hours it covers factory-scheduled maintenance, performed by Komatsu-trained technicians with Komatsu Genuine parts.
The latest KOMTRAX technology on the HB215LC-2 sends machine operating information to a secure website utilizing wireless technology. Data such as operating hours, fuel consumption, location, cautions and maintenance alerts are relayed to the web application for analysis. The KOMTRAX fleet monitoring system increases machine availability, reduces the risk of machine theft, allows for remote diagnosis by the distributor, and provides a wealth of other information to drive business efficiency and productivity.
Seamless operation = Greater productivity
On the HB215LC-2, there is no scheduled replacement interval for the Komatsu Diesel Oxidation Catalyst (KDOC). The integrated design of the KDOC gives it a long life and allows this simple system to remove soot using 100% "true passive regeneration", without the need for a Diesel Particulate Filter (DPF). Less complexity and truly seamless operation for the operator means lower costs of ownership and of operation. Also included is a variable-flow turbocharger that provides optimal airflow under all speeds and load conditions.
Cutting-edge technology
The HB215LC-2 is powered by the revolutionary Komatsu Hybrid System, which works on the principle of swing energy regeneration and energy storage. It includes Komatsu's electric swing motor, power generator motor, ultra-capacitor and a powerful 104 kW (139 HP) SAA4D107E-2-A diesel engine. Komatsu's Ultra-Capacitor provides fast energy storage and instantaneous power transmission.
The kinetic energy generated during the swing-braking phase is converted to electricity, which is sent through an inverter and captured by the Komatsu Ultra Capacitor. When accelerating under workload conditions the captured energy is discharged quickly for upper structure rotation and to assist the engine as commanded by the hybrid controller. The reserve power stored by the hybrid technology represents additional horsepower that is available to maximize machine performance by supporting the engine, or is used for swing power.
Hybrid components on the HB215LC-2 are covered by a "5 year or 10.000 hours" special warranty.
"No compromise" operator comfort
The new cab provides a more comfortable and quieter work environment to help operators maximize productivity. The ROPS-certified cab, specifically designed for hydraulic excavators, gains strength from a reinforced box structure framework. The cab is mounted on viscous isolation dampers that help provide low vibration levels. A higher capacity air suspension high back seat and heat are standard for improved comfort. In addition to the standard radio, a remote-located auxiliary input for connecting external devices is provided to play music through the stereo cab speakers. Additionally, there are two 12 volt power ports incorporated into the cab.
A high resolution 7" LCD colour monitor features enhanced capabilities and the operator can easily select up to six working modes to match machine performance to the application. The monitor panel provides information on ECO guidance, operational records, fuel consumption history, and utilization information. A standard rear-view camera with a wide landscape display allows the operator to view directly behind the machine.
Convenient maintenance and serviceability
Komatsu's third-generation hybrid excavator was designed for easier serviceability and adaptability. The HB215LC-2 includes a 50 point inspection at each service. It has two additional service valves, for use with hydraulic attachments, as standard equipment.
Related Articles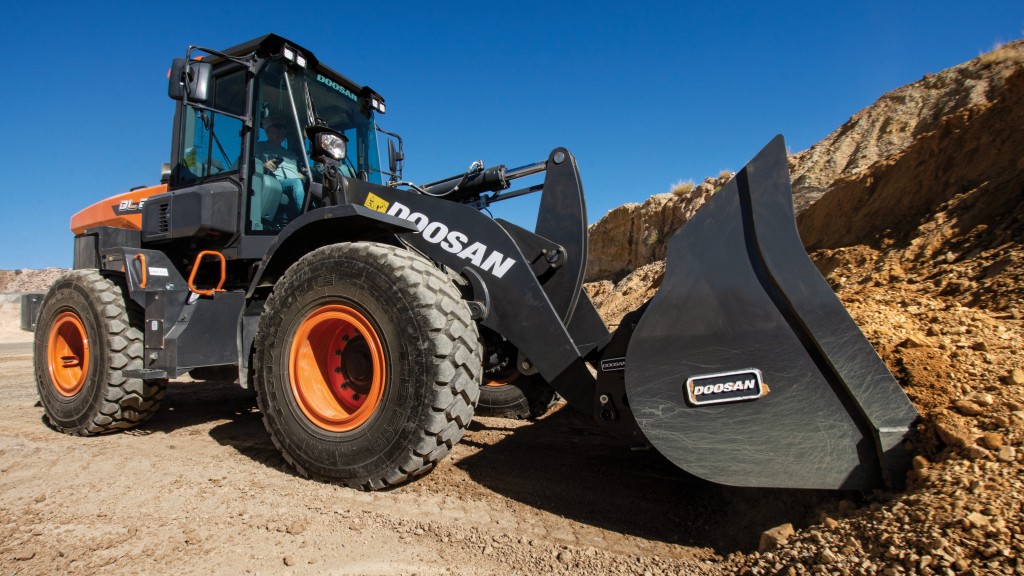 Smart technologies improve operator abilities on Doosan DL250-7 wheel loader