Doosan Introduces Two New Tier 4-Compliant Wheel Excavators with Improved Fuel Efficiency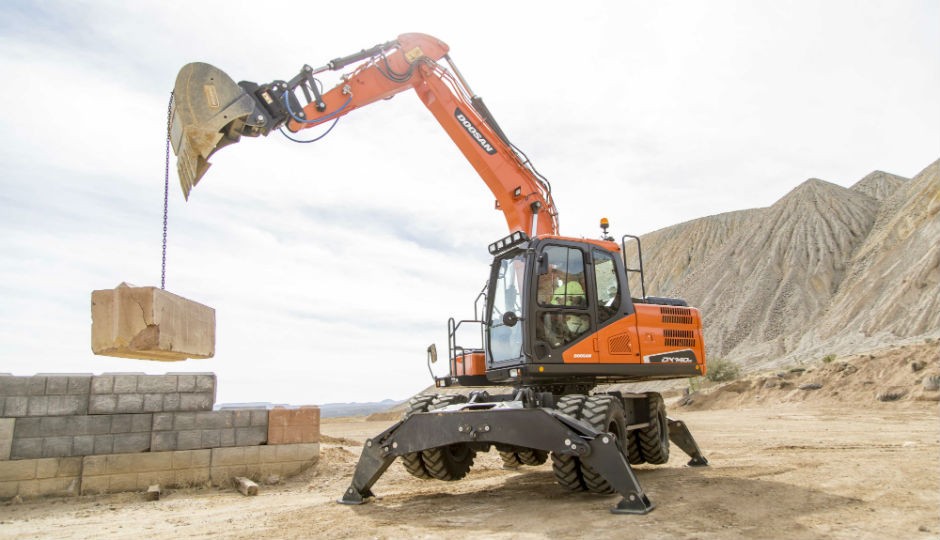 Doosan expands its Tier 4 excavator lineup with two new wheel models — the DX140W-5 and DX190W-5 — for applications that require an excavator with rubber tires. The "dash-5" excavators replace the "dash-3" (interim Tier 4) models. In addition to a Tier 4 diesel engine, these models feature improved fuel efficiency from a new Smart Power Control (SPC) selectable engine mode and multiple product enhancements.
The 132-net-horsepower DX140W-5 and 168-net-horsepower DX190W-5 wheel excavators stand out from other excavating equipment with their rubber tires, making them a popular choice for customers who regularly drive on finished concrete or asphalt surfaces. Doosan wheel excavators are often used in highway / street development, building, manufacturing operations, site development and land improvement. For example, a wheel excavator customer can drive on the shoulder of a road to dig in an adjacent ditch or use a bucket and clamp to pick up materials and load them into a truck for disposal.
Machine efficiency and productivity
A new selectable feature, SPC engine mode, is standard on the DX140W-5 and DX190W-5. SPC consists of two systems — Variable Speed Control and Pump Torque Control — that work together to improve machine efficiency while maintaining productivity and reducing fuel consumption. The engine control unit automatically manages SPC when SPC is engaged. Each of the four power modes will function with SPC engaged or disengaged; however, SPC can be active only in the Digging work mode.
Variable Speed Control: Reduces engine rpm during low workload requirements such as during the swing portion of a dig cycle. This reduces the total energy required to perform a task and improves fuel efficiency by up to 3 to 7 percent.
Pump Torque Control: Efficiently matches hydraulic pump torque and engine response to the task, preventing engine overload and excess fuel consumption, improving efficiency.
Machine updates
New DX140W-5 and DX190W-5 excavators offer customers multiple product enhancements; however, what doesn't change are the dependable performance, comfort and ease of service of their "dash-3" predecessors.
Ergonomic joystick: improves operator comfort and ease of use
Relocated rear camera: enhances rear visibility
Camera monitor: allows operators to monitor machine information while camera is on
Floor pedal: adds optional way for operators to activate two-way auxiliary hydraulics
Alternator upgrade: provides 80 amps for improved performance
Emergency stop relocated: makes it easier for operators to reach on the seat base