New Series of John Deere L-Series Backhoes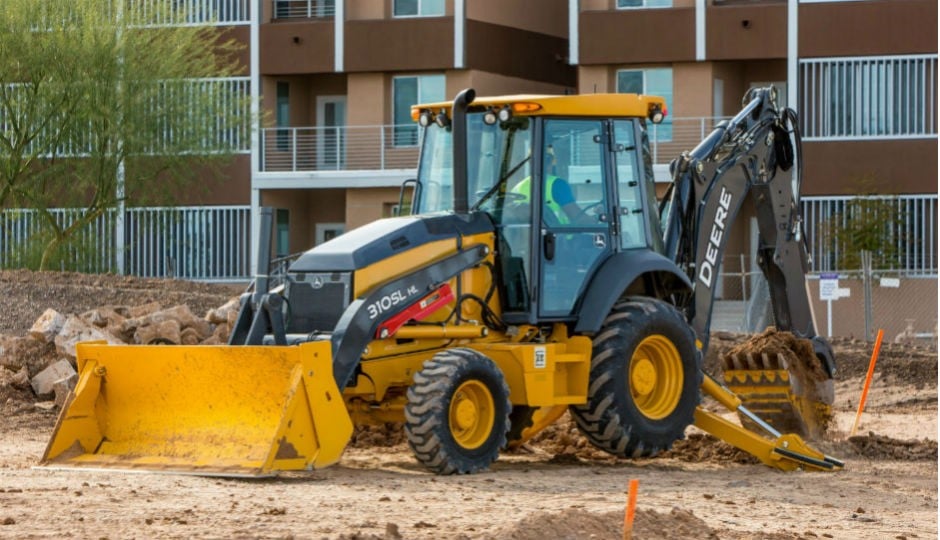 The new John Deere L-Series backhoes build on the distinguished performance of its K-Series predecessors. The new series offers improvements on features that John Deere customers have come to know and trust, plus the addition of several new ones, to increase uptime, provide exceptional productivity and lower daily operating costs.
The L-Series lineup boasts six new dynamic and efficient models – the 310L EP, 310L, 310SL, 310SL HL, 315SL and 410L. Built in John Deere's world-class facility in Dubuque, Iowa, the L-Series backhoes are designed for a variety of jobs, including: loading trucks, placing pipe, digging trenches, moving materials or tearing up asphalt.
The L-Series meets today's emission regulations through a rugged Final Tier 4/ EU Stage IV PowerTech Plus diesel engine on the 310L (93 hp), 310SL (99 hp), 310SL HL (110 hp), 315SL (99 hp) and 410L (113 hp), and a certified IT4/ Stage III B John Deere PowerTech engine on the 310L EP (70 hp). The 310SL, 310SL HL, 315SL and 410L boast a five-speed PowerShift transmission for smooth on-the- go clutchless gear changes with speeds up to 25 mph (40 km/h). The Autoshift option uses the fuel efficiency advantage of direct drive and lock-up torque convertor transmissions and automatically selects the best gear for a specific load.
Operators will find comfort in the cab, which features extra legroom and a more comfortable seat, which leads to easier rotation between loader and backhoe operation. Redesigned pilot towers feature fingertip electrohydraulic (EH) controls to provide easier operation. A multifunction lever on the steering column controls turn signals, wipers, lights – just like that of a car or truck, allowing the operator to maintain line of sight to the front of the machine while operating in the loader position. A new "palm-on-top" loader-control grip enables control of clutch disconnect, quick shift, auxiliary proportional roller and momentary front-wheel drive. In addition, the L-Series boasts improved diagnostics with a state-of-the-art multi-language monitor. Operators can program a multitude of time-specific functions such as auto shutdown and auto idle.
Other enhanced L-Series creature comforts include an efficient HVAC system, adjustable mechanical or air-suspension seat, lower and larger steps for easier entry and egress, a new lighting scheme with optional LED lighting kit to enhance visibility and extend the workday and an elevated canopy for better visibility to both the front and rear of the backhoe. All backhoes also have the option to add premium radio with Bluetooth auxiliary input and XM Satellite Radio capability. An optional Auto Ride control field kit is based on an adjustable ground speed setting for the 310SL, 310SL HL, 315SL and 410L. It automatically engages or disengages the machine's loader hydraulics to act as a shock absorber, creating a smoother ride for the operator and reducing spillage from the loader bucket.
The John Deere L-Series backhoes come standard with Economy mode, saving fuel in many applications. When activated, maximum engine RPM is limited in both loader and backhoe operations. A variable-speed electronically-controlled fan automatically speeds up or slows down, operating only as needed to keep things cool, helping conserve power and fuel while reducing noise.
"The backhoe is one of the most popular and versatile pieces of equipment on the jobsite and our customers are always looking for an advantage when completing the task at hand," said Brian Hennings, product marketing manager, backhoes and tractor loaders, John Deere Construction and Forestry. "The L-Series gives them that advantage and more with added lift capability and PCLS hydraulics, as well as productivity boosting features and unmatched reliability and uptime. These are the most versatile John Deere backhoes ever."
Company info
Related products