A.R.E. Accessories Offers Commercial Duty Tonneau Cover and Truck Cap Options For 2015 Chevrolet Colorado And 2015 GMC Canyon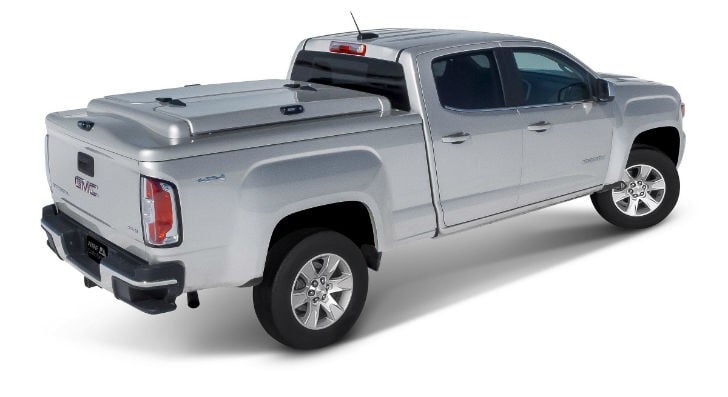 A.R.E. Accessories now offers several well-designed and durable tonneau cover and truck cap options to equip the new 2015 Chevrolet Colorado and 2015 GMC Canyon pickup trucks for commercial work duty.
A.R.E.'s quality-built fiberglass tonneau covers and truck caps for both the five- and six-foot beds of these mid-size pickup trucks include a convenient worktop tonneau cover and three aluminum truck cap options. Designed with service workers in mind, A.R.E.'s 3DL Series work-ready tonneau cover protects equipment and tools while providing convenient access with two easy-opening palm-handled side doors. The modular styling adds over four extra inches of storage room above the bed rail and allows excellent rear visibility from the cab of the truck.
For industrial-strength durability and tough good looks, A.R.E. Accessories introduces the Diamond Edition Deluxe Commercial Unit (DCU), the newest member of a complete line of work-ready truck caps. The Diamond Edition DCU is constructed with distinctive and durable .063 diamond-plated aluminum and a rugged, fully-welded aluminum frame for years of reliable service. All DCU doors feature automotive-quality BOLT(r) lock cylinders in folding T-handles for added security, as well as Suspa(r) gas props on all doors.
The A.R.E. Deluxe Commercial Unit (DCU) cap features rugged, fully-welded aluminum frame construction and can be completely customized with more than 200 options, including a variety of overall cap heights, door and window configurations, toolboxes, custom ladder racks, side panels, interior fabric liners and lights. According to Andy Clutter, A.R.E. marketing manager, "Even with all of the options we offer, we also can custom-build a DCU to your exact specifications, often in less than 14 days."