Komatsu Introduces the GD655-6 Motor Grader
Powered by Komatsu Tier 4 Final Engine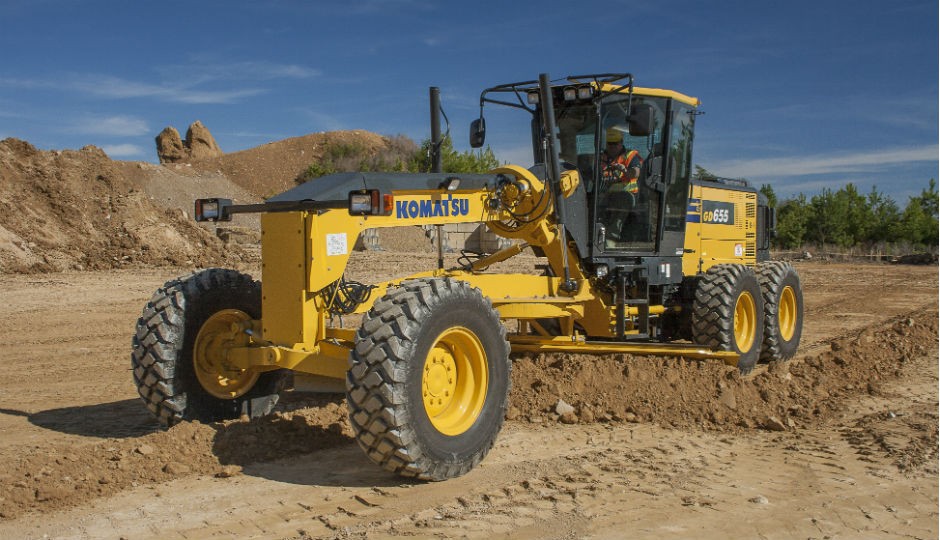 Komatsu America Corp. has announced the introduction of the GD655-6 motor grader. Featuring 218 net horsepower (163 kW), the GD655-6 is powered by a Komatsu SAA6D107E-3 engine that is EPA Tier 4 Final emissions certified. This new motor grader leverages Komatsu's nearly 20 years of experience and innovative leadership in emissions technology to deliver a high-performance, more environmentally-friendly engine that burns less fuel and costs less to operate.
Standard features on the GD655-6 include a Turbo II precleaner, independent blade lift float, front mounted work lights, and a toolbox with lock. Also standard on the grader are 10 control valves, which means two extra valves with linkage for additional attachments. In addition, the GD655-6 has provisions for ripper and grade control installations.
A closed-center, load sensing (CLSS) hydraulic system with a variable displacement pump supplies flow and pressure only when required, resulting in less heat and fuel usage. Direct acting control valves designed and built by Komatsu provide an outstanding operator "feel" and predictable system response. A circle slip clutch for added reliability comes standard, as well as greaseless circle wear plates for extra durability. Improvements to the front frame, circle, and draw bar provide increased structural strength and durability.
The GD655-6 features Komatsu's dual-mode transmission designed and built specifically for Komatsu motor graders. This drive train incorporates a powershift transmission with eight forward speeds and four reverse speeds, coupled to the SAA6D107E-3 engine by both a torque converter and a direct drive lock-up clutch. This design gives operators the best of both worlds: direct drive delivers high travel speeds and lower fuel use and the torque converter delivers increased tractive effort and fine control at lower speeds. The driveline provides on-the-go, full power shifting as well as inching capabilities and automatic shifting in the higher ranges. Engine stall prevention is controlled electronically and automatically by disengaging the lock-up clutch (switching to torque converter mode) when handling heavy loads.
Thanks to the new Komatsu SAA6D107E-3 engine, owners and operators can expect to burn 5% less fuel in "power mode" and 15% less in "economy mode", compared to the previous model. An auto idle shutdown feature also comes standard. It curbs fuel consumption and service meter reading by turning off the engine after an idle-time interval set by the operator.
The GD655-6 features the longest wheelbase in class with 21'4" for superior grading performance. Despite the long wheelbase, the GD655-6 maintains a turning radius of 24'3".