Bretec Enhances Breaker Range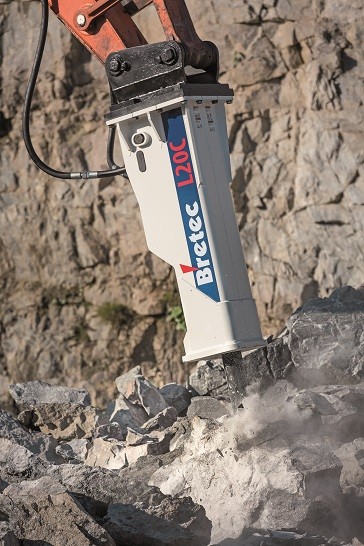 Sandvik Construction has unveiled the two latest models from its mid-segment Bretec hydraulic breaker brand. These have been developed to provide customers with new features for enhanced performance and reliability.
Sandvik's Bretec brand has recently launched two new C-Series models: the M17C and L20C. These breakers incorporate a number of new features and updates over the M17 and L20 models they replace. Designed for carriers in the 15 to 23 tons and 20 to 29 tons operating weight class, the M17C and L20C models boast operating weights of 1,240 and 1,650 kg respectively. Impact rates range from 280 to 760 blows per minute on the M17C, and from 390 to 700 blows per minute on the L20C.
In addition to their enhanced performance, the two new models incorporate many new features providing greater reliability and durability, as well as delivering reduced ownership and operating costs. These features include:
Round Retaining Pins – Delivers extended life for lower cost of ownership and operation
New Tool Retaining System – Permits faster tool changes for reduced downtime
Improved Tool Seal – Protects tool, bushings and retaining pins reducing ownership and operating costs
Dust-Protected Housing – Prevents dust ingress for reduced wear and helps reduce noise levels
Idle Blow Protection – Eliminates tie rod stress and oil overheating to protect against premature failure
Automatic Greasing – Auto lubrication now available as an option for greater tool protection
As well as these new features, the M17C and L20C both benefit from the addition of durable hydraulic hoses as standard; a high pressure accumulator that protects against pressure peaks; improved gas sealing for extended service intervals; and an improved and self-adjusting pressure control valve to eliminate oil spillages.
The new improved Bretec models join a product range that now includes 10 models that are suitable for carriers in the 1.2 to 40 tons operating weight class.