Trimble Receives John Deere Supplier Innovation Award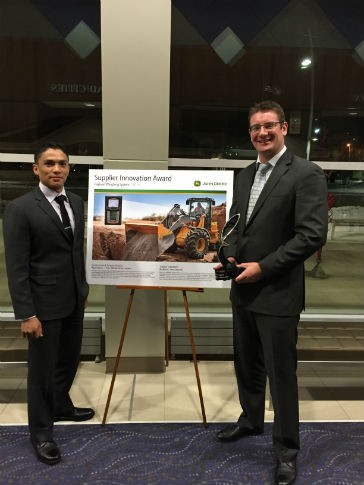 Trimble has been awarded a John Deere supplier innovation award for 2014. The award is presented to a select group of suppliers who have demonstrated innovation in a product or service they provide to John Deere.
Award selections are based on four factors—creativity, feasibility, collaboration and bottom-line impact. John Deere created the supplier innovation awards in 2010 to promote innovation in the company's supply base and recognize suppliers who think creatively.
Trimble supplies its LOADRITE L2180 loader scales to John Deere.
"Deere has recognized the customer's need for payload management as part of the WorkSight solutions portfolio. We are very pleased that Deere selected LOADRITE as its onboard weighing solution specialist, with a commitment to accuracy and quality," said Johan Smet, Trimble Loadrite general manager. "The LOADRITE product is backed by our factory trained and authorized international installation and support team. Our relationship with Deere dates back more than twenty years, and we look forward to extend our productive relationship well into the future."