JCB Gears Up For Growth with New Compact Excavators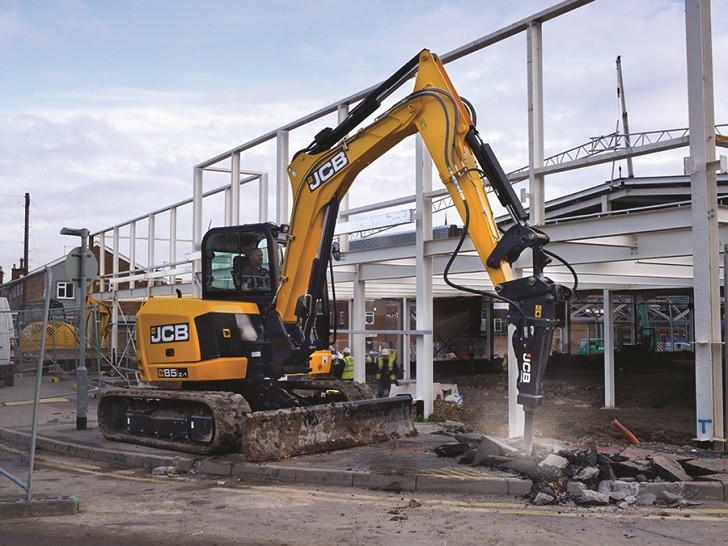 JCB is preparing to meet a growth in demand in the compact excavator market with the launch of an exciting new range of compacts.
The first machines unveiled as part of the new line-up are the 8.5 metric ton 86C-1 conventional tailswing model and the 85Z-1 zero tailswing model – both designed to grab a bigger share of the market.
JCB's Chief Innovation and Growth Officer Tim Burnhope said: "The compact excavator market is expected to approach 200,000 units by 2018and with this fantastic new range, JCB is ready to seize the opportunities presented by this growth."
"We have undertaken the biggest benchmarking and customer evaluation exercise in JCB's history to come up with a range that is truly world-leading on all fronts: performance, reliability, cost of ownership, safety, durability, comfort and serviceability."
The 86C-1 and 85Z-1 launch a completely new look for JCB compact excavators, with a revised H-design undercarriage, robust steel body panels, a spacious operator environment and powerful Tier 4 Final engines that deliver increased efficiency and lower operating costs.
The 8.5 metric ton compact excavators are powered by all-new JCB Diesel by Kohler engines, delivering 64 hp (48kW). They drive industry-leading Bosch Rexroth hydraulic valves and Nachi slew motors and track drives and incorporate an additional patented reduced loss hydraulic system. Operating with reduced back pressure, eliminating parasitic losses, the hydraulic system puts less demand on the engine, reducing fuel consumption. All hoses feature O-ring face seal technology and are color coded for rapid identification.
The machines feature a sturdy swing bracket design with widely spaced bearings to prevent wear. In addition, JCB compact excavators use a new graphite-based pin and bush design delivering 500 hour greasing intervals, for reduced daily maintenance and lower operating costs. The machines will also be available from the factory with a roto/tilt function installed ready for use with a number of rotating and tilting bucket mount systems and a thumb-ready arm option.
The digging equipment has individual hydraulic piping for easy maintenance and hose replacement. Twin auxiliary circuits will be available and operators will be able to program individual hydraulic flow settings for attachments through the in-cab monitor, making it easier and faster to change between powered attachments such as breakers and grabs.
The JCB 86C-1 and 85Z-1 feature 100% pressed steel body panels, delivering sturdy component protection and easy repair. The compact excavators benefit from improvements in their SAE service and maintenance rating, thanks in part to the tilting cab and repositioned components. With lower fuel consumption and 500 hour greasing, ownership and operating costs will be impressively reduced.
The new JCB compact excavators have a cab structure that can be tilted by 30o to allow access to hoses and hydraulic components, for repair and maintenance. JCB has also improved the grouping of components to reduce maintenance times. In addition, the machines have removable side skirts and panels for maximum service access, along with improved access to the cooling pack.
Another unique feature for greater fuel economy is the engine rpm automatically drops below the idle speed when the operator's arm console is lifted, which also reduces noise levels.