10 Ton JCB Compact Excavator Meets Changing Demand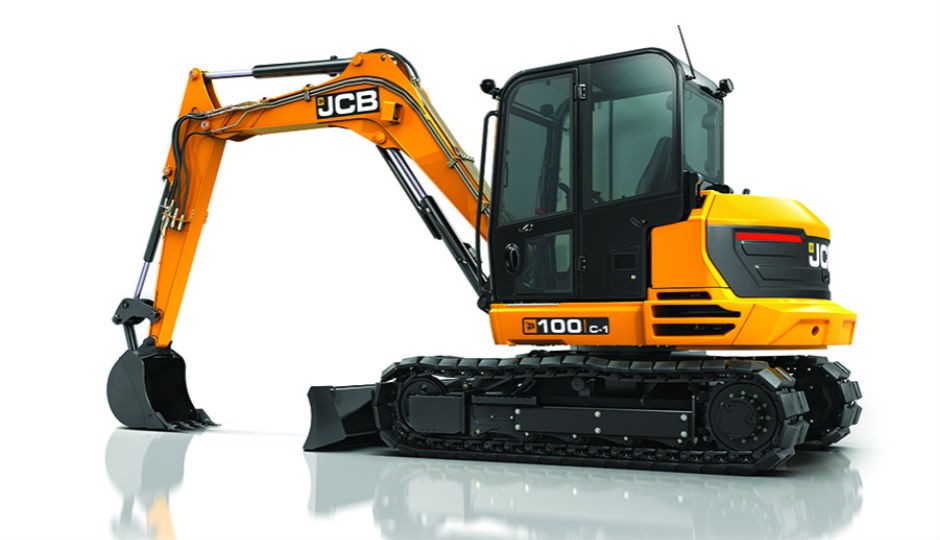 JCB is set to launch a 10 metric ton conventional tailswing compact excavator to meet the growing demand from customers. The 100C-1 is based on the frame of the recently released 8.6 metric ton 86C-1 compact machine, but with a more powerful engine, larger dig end and increased hydraulic capacity to boost performance.
The 100C-1 shares the latest JCB compact excavator appearance, with a revised H-design undercarriage, robust steel body panels, a spacious operator environment and a powerful Tier 4 Final engine, that delivers increased efficiency and lower operating costs for the customer. The machine is powered by a JCB Diesel by Kohler engine delivering 74 hp. This drives through industry-leading Bosch Rexroth hydraulic valves and Nachi slew motors and track drives.
With an operating weight of 21,458 lbs, the machine shares the same width and height over the cab as the lighter 85Z-1/86C-1, with an 18" rear overhang, 4" larger than the 8.6 metric ton machine. This additional bodywork provides space for the more powerful engine, with increased hydraulic pump capacity and larger hydraulic cylinders resulting in a maximum bucket tearout force of 16,231lbf and a dipper arm tearout force of 9,510 lbf.
Longer digging equipment provides the 100C-1 with a maximum digging depth of 15', a dump height of 18'6" and a reach at ground level of 24'4". A patented reduced loss hydraulic system operates with reduced back pressure, eliminating parasitic losses and the hydraulic system puts less demand on the engine, reducing fuel consumption. All hoses feature O-ring face seal technology and are color coded for rapid identification.
The machine features a sturdy kingpost design with widely spaced bearings to prevent wear. In addition, all JCB compact excavators use a new graphite-based pin and bush design delivering 500 hour greasing intervals, for reduced daily maintenance and lower operating costs. The swing bracket design, with slewing boom, is proving increasingly attractive to customers when compared to a conventional 13 metric ton crawler excavator, particularly for confined site access.
The digging equipment has individual hydraulic piping for easy maintenance and hose replacement. Twin auxiliary circuits will be available and operators will be able to program individual hydraulic flow settings for attachments through the in-cab monitor, making it easier and faster to change between powered attachments such as breakers and grabs.
With its new range of compact excavators, JCB is leading the way on safety. The machines feature JCB's 2Go hydraulic safety system, seen on the company's larger JS excavators. In addition to the standard hydraulic cut-off that is activated by lifting the left hand lever pod, the operator is required to activate the hydraulic system through a button on the right-hand console. This reduces the chance of operators working the hydraulic levers from outside the cab, improving safety on site.
The 100C-1 is available with a twin locking, factory-fitted quickhitch system, incorporating a flashing red LED warning light on the boom, indicating a quickhitch operation is in progress. The machine will also be available from the factory with a roto/tilt function installed ready for use with a number of rotating and tilting bucket mount systems.