Updated 550K, 650K, and 700K Final Tier 4 Crawler Dozers Join the John Deere K-Series Lineup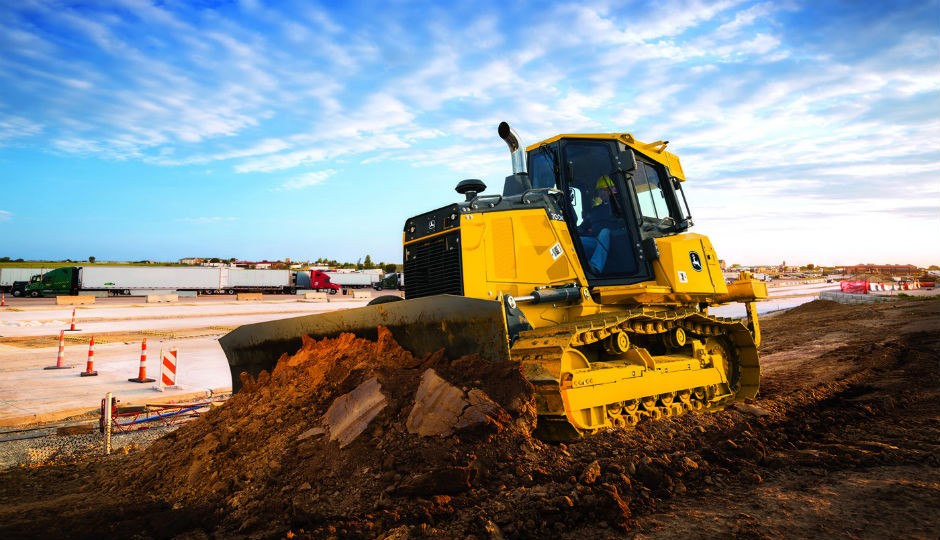 The John Deere 550K, 650K and 700K Crawler Dozers not only meet Final Tier 4 emissions standards, but also incorporate value-enhancing features such as Eco mode and an updated electro-hydraulic (EH) control system. The K-Series dozers provide contractors a Final Tier 4 product that affords higher productivity, increased uptime and lower daily operating costs in earth moving and grading applications.
"The 550K, 650K and 700K crawlers are built on the success of the K-Series lineup and boast many new updated features like their 850K and 1050K cousins," said Mark Oliver, crawler dozers product marketing manager, John Deere Construction & Forestry. "In addition to engine updates, John Deere added some new features customers will appreciate, including the electro-hydraulic system, Eco mode, blade shake, push button throttle, and courtesy lighting."
The 550K and 650K incorporate a PowerTech 4.5L Final Tier 4 diesel engine with 92 hp and 104 hp respectively. The 700K boasts a PowerTech 6.8L Final Tier 4 diesel engine with 130 hp, a five horsepower increase over its IT4 predecessor.
All three models incorporate John Deere's new Eco Mode feature that optimizes fuel economy while maintaining ground speed by automatically adjusting engine speed and transmission settings based on load. This new feature has the potential to save customers upwards of 20 percent in fuel with no loss in productivity in many applications. A new push button throttle controls engine RPM, as opposed to a rotary dial. Speed increase and decrease buttons will cause engine RPM to either go to wide open throttle or to low idle. Pushing and holding the button will allow the operator to find the desired speed range.
Operators don't have to worry about diesel particulate filter (DPF) cleaning as it still occurs automatically with no impact to machine operation. Extensive testing allowed John Deere's DPF to go up to 15,000 hours before ash removal. Additionally, all models feature excellent total fluid economy (diesel fuel and DEF).
The new crawler models continue to utilize hydrostatic transmissions, a feature John Deere pioneered in crawler dozers in North America in 1976. Updates were made to the electronic control system for improved response and controllability, increasing productivity and enhancing the operator experience. The motors were also upgraded from a two-speed design to a variable displacement design to optimize pushing power and drawbar pull.